Home
Judicial commission wants to examine Sharad Pawar in Bhima-Koregaon case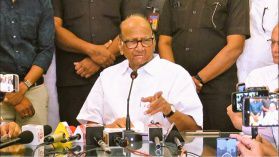 Mumbai: The judicial commission, which is inquiring into the Bhima Koregaon-Elgar Parishad violence, on Monday expressed its desire to examine Nationalist Congress Party chief Sharad Pawar as part of its probe.
The commission, however, has concerns about whether it would be in a position to examine Pawar, given the April 8 'deadline' issued by the Maharashtra government for it to wind up proceedings.
The commission has taken note of what it terms 'improvements' in Pawar's statement. He recently addressed a press conference, during which he was reported to have said that Hindutva leaders Milind Ekbote and Manohar Bhide had created an atmosphere which induced the violence.
Pawar trying to implicate 'Hindutvawadis' in Bhima Koregaon case: Devendra Fadnavis
"But these statements do not match with what Pawar had stated in his affidavit filed before the commission in October 2018. Thus, the commission was of the opinion that he has some more information regarding the incident," Ashish Satpute, the advocate representing the commission, told The Free Press Journal.
"Accordingly, the commission has expressed its desire to call him (Pawar)," Satpute said. Earlier this month, the government had notified the 'final' extension of the commission and clarified that it would wind up the panel.
In his affidavit filed before the commission, Pawar had not named anybody and had only maintained that it would not be possible to rule out the role of right-wing forces (in the violence). "I would not be in a position to specifically make allegations against a particular organisation.
However, the government failed to protect the interests of the common man residing at Bhima-Koregaon. The active role of right-wing forces behind the violence at Bhima-Koregaon cannot be ruled out," Pawar had stated said in his affidavit.
Dailyhunt
Disclaimer: This story is auto-aggregated by a computer program and has not been created or edited by Dailyhunt. Publisher: The Free Press Journal