Social Sector
Event for 'Ojass the Superhero of Shyamavali' is a huge success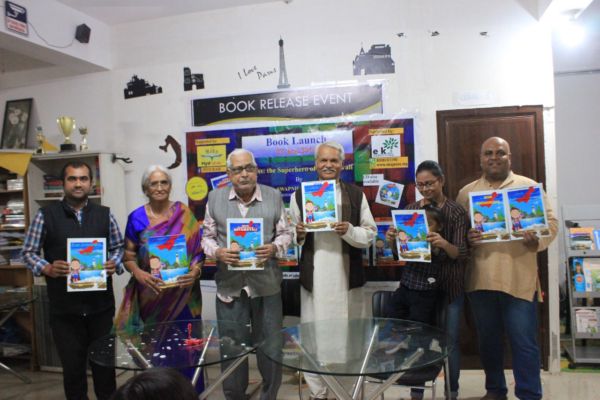 'Ojass the superhero of Shyamavali' is a trending new book, released by renowned Indian author Swapnil Saurav and published by Ekapress Publishers, Hyderabad.
Since 2018, there has been an influx in independent authors, making it hard for a new publication to get noticed and easy for them to get lost in the sea of independent publications. Introducing 'Ojass the Superhero of Shyamavali', a new publication by popular Indian author Swapnil Saurav, has been making waves on social media - reaching its audience in India and more recently in the US due to the huge success of a recent event surrounding the release of the book.
The book release event was held, by Swapnil Saurav, on the 27th of January 2020 at the Replay Social Cafe, Hyderabad. The occasion was graced by the presence of special guests Shri Dayanath Jha, Dr Surya Kaladhar and Shri Chandra Mohan Karn. The success of the event and the presence of such distinguished guests garnered mass support for the release of the book, both locally and online across social media, even causing the release of the book to gain viral status online. The event was anchored by Pooja Desai, with Arun Kumar being the keynote speaker, who spoke about the importance of reading books especially for kids. Other speakers attending the event were distinguished writers Manoj Shandilya, Meenakshi Choudhary and Devika Das. They praised the author's work and reverberated a common emotion that "writing books for kids is no kids play". Gunjan Shri read a chapter from the Maithili version of the book. Mahboob Hussain gave the vote of thanks and author Swapnil spoke about how his son Ojass inspired him to write the book. There were various performances by kids scheduled at the event. Ritisha and Manya rendered classical songs and Devesh performed a dance. Magician Sreenivas entertained the audience with his show, much to the glee of all the kids present. The event concluded with a very special dinner.
Author Swapnil Saurav has recently been gaining much notoriety and a modest following on social media due to the success of the event and following the release of his new book. 'Ojass the superhero of Shyamavali' itself, has been gaining likes and shares all over social media due to its inspiring nature. It has been a hit with international audiences as well and has led to the book being translated into several different languages such as Hindi, Maithili, Telugu, French, Portuguese and Chinese, apart from the original version in English
Be sure to keep up to date with trending author Swapnil Saurav on his various social media accounts as he pens new words to inspire us all as we progress into the year 2020, a year of positivity and inspiration.
The Book 'Ojass the Superhero of Shyamavali' is now available for purchase via all major digital book distribution outlets, including Amazon.
ASSOCIATED SITES:
www.amazon.com/author/swapnil
MEDIA CONTACT:
www.ekapress.org
Dailyhunt
Disclaimer: This story is auto-aggregated by a computer program and has not been created or edited by Dailyhunt. Publisher: The India saga