Home
India will become self-sufficient by stopping import of more than 100 weapons, know which weapons are included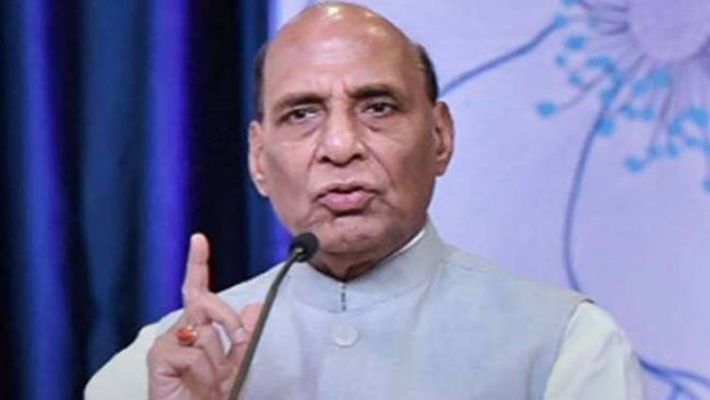 New Delhi. In an important initiative to boost the domestic defense industry, Defense Minister Rajnath Singh on Sunday announced a ban on importation of 101 arms and military equipment till 2024. These devices include light combat helicopters, cargo aircraft, conventional submarines and cruise missiles. Singh announced this on Twitter and estimated that with these decisions, the domestic defense industry will get contracts worth about four lakh crore rupees in the next five to seven years. He said that the Ministry of Defense, Prime Minister Narendra ModiTaking forward the call of 'Self-reliant India', it is now ready to take big steps to speed up domestic defense manufacturing. According to officials, the list of 101 items includes toad artillery guns, short-range surface-to-air missiles, cruise missiles, offshore patrol ships, electronic warfare systems, next-generation missile ships, floating docks, anti-submarine rocket launchers and Short-range maritime reconnaissance aircraft are included. The list includes basic training aircraft, light rocket launchers, multi-barrel rocket launchers, missile destroyers, sonar systems for ships, rockets, air-to-air missiles beyond the range of visibility. Light machine guns and artillery ammunition (155 mm) and medium range guns on ships are also included. Singh's announcement comes a week after the Defense Ministry drafted the Defense Procurement Policy. In the draft, the Ministry of Defense has estimated a turnover of 1.75 lakh crore rupees ($ 25 billion) in defense manufacturing by 2025. India is one of the most attractive markets for the top global defense companies. India ranks among the top three importers of military hardware for the past eight years.
According to estimates, the Indian Armed Forces are to procure 130 billion dollars in the next five years. Singh said, This is a major step towards self-reliance in the defense sector. This gives the Indian defense industry an opportunity to exploit the items included in this list by using their own design and development capabilities or by adopting technologies developed and designed by DRDO. " As an important step, the Ministry of Defense has divided the capital purchase budget of 2020-21 into domestic and foreign capital purchases. In the current financial year, a separate budget of about 52 thousand crore rupees has been made for domestic purchases. Singh said that all necessary steps will be taken to ensure domestic manufacturing of the equipment included in this list within the stipulated time. He said that these measures will also include a coordinated mechanism to uplift the industry through defense services. They said, There are plans to implement this ban on imports progressively between 2020 and 2024. The purpose behind the announcement of the list is to make the Indian defense industry aware of the anticipated requirements of the armed forces, so that they can be better prepared to achieve the goal of indigenization.
The defense minister said that the ministry has prepared the list after several rounds of talks with all the concerned parties including the three services, the Defense Research and Development Organization (DRDO), defense sector PSUs, Ordnance Factory Board and private industries. He said, "The three military services contracted about 260 schemes for such items between April 2015 and August 2020 at an estimated cost of Rs 3.5 lakh crore." With the new ban on import of these 101 items, it is estimated that in the next five to seven years the domestic industry will get contracts worth about four lakh crore rupees. "During this period (next five to seven years) Of these, it is estimated to purchase about Rs 1,30,000 crore for both the Army and the Air Force and Rs 1,40,000 crore for the Navy. "Singh said the list includes the Armored Combat Vehicles (AFVs). ), The indicative date of implementation for which is December, 2021. It is estimated that 200 such vehicles will be awarded by the Army at an estimated cost of five thousand crore rupees. "Similarly, there are estimates of purchase of submarines by the Navy with a symbolic execution date of December 2021," he said. The Navy can award contracts for six such submarines at a cost of around Rs 42 thousand crore.
It has been decided to include Mk 1A, a light combat aircraft for the Air Force, for which the indicative date of implementation will be December 2020. The Air Force is estimated to award contracts for 123 such aircraft at an estimated cost of more than Rs 85 thousand crore. "According to a government document, the import ban on 69 items will come into effect from December 2020, while the restriction on 11 other items will be implemented. In force from December 2021. A separate list of four items has been identified for import restrictions from December 2022, while the ban on two separate segments of eight items will come into effect from December 2023 and December 2024. The import ban on long-range land attack cruise missiles will come into effect from December 2025. The Defense Minister said that on the basis of consultation with the parties concerned, a list of such goods will be made, whose import will need to be stopped.
Dailyhunt
Disclaimer: This story is auto-aggregated by a computer program and has not been created or edited by Dailyhunt. Publisher: The Indian Print