Top Headlines
Mothers' massive participation will ensure masses' victory: Samujjal Bhattacharya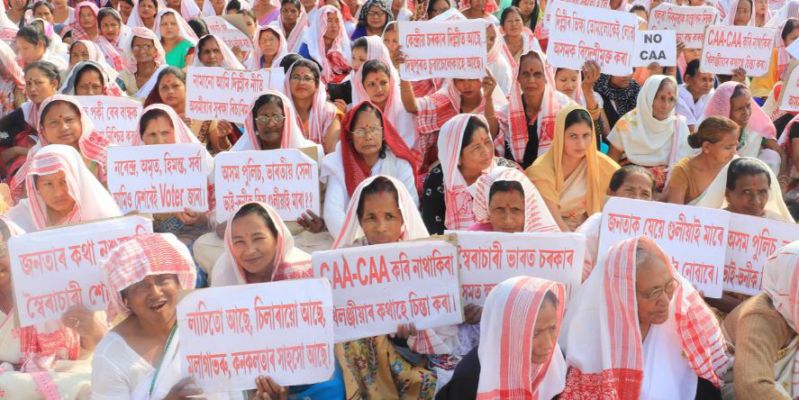 STAFF REPORTER
GUWAHATI: Our mothers are leading the masses' movement against the contentious Citizenship (Amendment) Act (CAA)-2019, and this very fact will ensure that the victory will be of the people of Assam, declared AASU chief adviser Samujjal Kumar Bhattacharya while addressing the mammoth gathering during the 'Ganahungkar' (Masses' Thunder) programme organized by the AASU units of Azara and Dharapur at the call of the AASU and 30 other ethnic organizations at the Dharapur School field on the suburbs of the city on Saturday. Stressing that 'there is only one potent weapon against the Central government', Bhattacharya lauded 'the masses for continuing the peaceful and democratic agitation'.
Dwelling on the backdrop of anti-CAA movement in Assam, the AASU leader added, 'In 1947, the people of Assam had to fight their own movement to remain with India. In 1949, then Prime Minister Jawaharlal Nehru and Union Home Minister Sardar Vallabhbhai Patel sought land for settling refugees in the State; however, the then leaders of Assam refused this Central request. But today when the State is facing serious threats to its land, language, culture, and very identity, the present-day leaders of the State are kneeling down in front of the Central government.'
He also pointed out, 'Though the entire country is carrying out protests against the CAA yet there are vast differences in the objective and manner in which Assam and the entire Northeast is carrying out rallies against the CAA. Here the people are voicing their opposition in a democratic and peaceful manner.'
Reacting to the recent statement of the Assam government that the rules of CAA will be different from the other parts of the country, Bhattacharya said, 'We don't accept this proposition. The CAA must be withdrawn totally.'
Demanding a special session of the Assam Assembly, the AASU leader said, 'The government must apologize on the floor of the Assembly for trying to create confusion among the people on the cut-off date of the Assam Accord. The Ministers must read the Accord thoroughly. The Accord clearly mentions the midnight of March 24, 1971 as the cut-off date.'
Among those who addressed the gathering were advocate Satyen Sarma, and former principal of Paschim Guwahati Mahavidyalay Bolendra Chandra Das, besides prominent artistes Manash Robin, Babu (Kumud Baruah), Ibson Lal Baruah, Chandan Kakoti, and Nekib.
Dailyhunt
Disclaimer: This story is auto-aggregated by a computer program and has not been created or edited by Dailyhunt. Publisher: The Sentinel