Telangana
Demand soars for prayer tools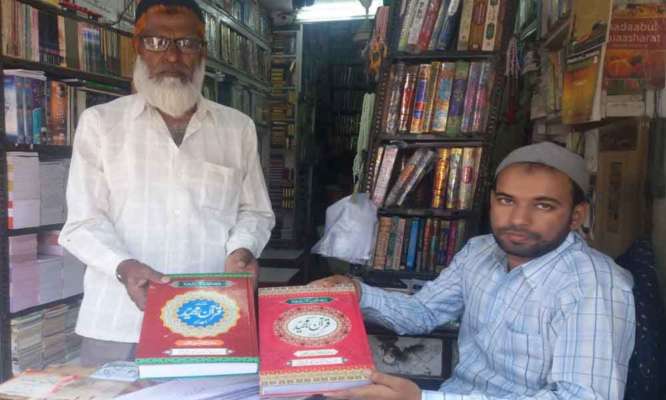 Charminar: In the month of Ramzan, Muslims purchase prayer accessories like Janimaz (prayer mat), Tasbih (beads), the holy Quran and other Islamic books for reading, learning and to be rewarded by the almighty in the holy month.

In the season, Muslims alsoperform Islamic duties like fasting, prayers, including special prayer 'Tarawih'. Apart from these, Muslims also practice Zikr like reading Quran and other Islamic books, sold in many parts of the Old City.
The demand forthe holy Quran, surehyaseen, manzil, prayer caps, tasbih, janimaz, miswaq and other items double in the season of Ramzan. Sunni Muslims believe thatdonating Quran or a set of individual chapters (30 Paare), Surah Yaseen or Janimaz to mosques in the name of their ancestors or relatives would help them get rewarded in their here-after, said Mohammed Salman, owner ofMinar Book Depot and Publisher, located near Charminar.
Mohammed Salman said a copy of Holy Quran or a set of individual chapters (30 Paare) is available at the store depending on the quality.The store also carries other books like translations of med Raza Khan Barelwi, Maulana Ashraf Ali Thanvi in Urdu and English translations of Abdullah Yusuf Ali, Muhammad Marmaduke Pickthallare also available.The sales of accessories like caps, tasbih, miswak are also doubled in this month, he said. "People buy miswaq, as it is the only one usedto clean the teeth during fasting," he added.
Md Fazlul Rahman, a customer, said that each year during Ramzan, he distributes a set of 30 paare (chapters of Quran) in the Islamic schools and Janimaz in Masjids in the name of his late grandparents, so they are rewarded by the almighty.
Another customer Mohammed Ayaz purchased a dozen of Sureh Yaseen to donate in Masjids in the name his parents. He said that he donates depending upon his budget.
Ilyas Bukhari, managing partner at Mohammed Cap Mart, which is the largest shop in city forJanimaz and rugs, said that the store offers 10% discount on itemscustomers buy to donate. "It is a tradition in Hyderabad and in most Muslim- dominated cities and countries to lay new carpets and prayer rugs every year just ahead of Ramzan," he added.
Rugs of the likes used in the Holy mosques of Makkah and Prophet's Mosque in Madina are also available in the mart. Nearly 1,000 types of prayer caps representing different cultures of different Islamic countries and places are also on display in the store.
Dailyhunt
Disclaimer: This story is auto-aggregated by a computer program and has not been created or edited by Dailyhunt. Publisher: thehansindia