International
A-list talent, business leaders and creative legends unite to produce LIONS Live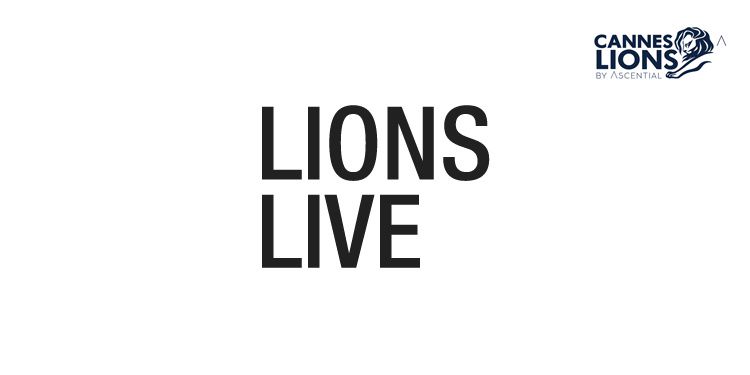 International: Cannes Lions has announced details of the talent forming the agenda for LIONS Live, the new digital experience taking place from 22-26 June. Curated in partnership with some of the world's most creative people and companies, LIONS Live will offer beautifully produced content and experiences, in a range of compelling digital formats.
Available to watch for free, from any screen, anywhere in the world, LIONS Live will be broadcast from a London studio and anchored by BBC journalist and presenter, Tina Daheley.
Speaking about LIONS Live, Charlotte Williams, VP of Content, Cannes Lions, said: " We've taken the very best content elements of Cannes Lions - the provocative ideas, diverse speakers, global insights, debate - and translated them into a curated digital experience. We're working in partnership with some of the most creative people on the planet and they're producing compelling content to a very high standard. These are storytellers from the best creative agencies, production companies, entertainment companies, content creators and platforms. We want everyone to feel inspired by this, and to come away rebooted and refreshed."
The 'At Home With. . .' series will explore narratives around inspiration, motivations, and what it takes to be successful in the wider world of creativity. Director, creative and host, Jonathan Hyla will interview some famous faces about their creative inspirations, career paths, and future outlook for 2020 and beyond. Guests include Wyclef Jean, Emily Ratajkowski, A-Rod, Anupam Kher, and Basketmouth.
The LIONS Live agenda will tackle the eight themes identified for the Cannes Lions 2020 Festival, some of which include 'Storytelling at Scale', 'Creativity IS the Business Growth Engine', and 'Let's Get Back to Brand'. Williams added: "LIONS Live will provide the space for the industry to work things out together so these themes will of course be cast in a new light given the effects of Covid-19 and #BlackLivesMatter."
In the CMO Spotlight series, sponsored by The Economist, leading CMOs will divulge what they're focusing on now, how they're managing remote leadership in lockdown, and whether the world of marketing will really change forever. Names confirmed include Bozoma Saint John, Endeavour; Merlee Cruz-Jayme, Dentsu McGarry Bowen; Pedro Earp, AB InBev; Leanne Cutts, HSBC; Katie Riccio Puris, TikTok; and Asim Naseer, Beiersdorf.
Also on the agenda, Unilever's newly-appointed Chief Digital & Marketing Officer, Conny Braams, gives her first address to the creative community; and VICE TV will present No Mercy, No Malice with Professor Scott Galloway.
In an important keynote, Bob Lord, Senior Vice President, Cognitive Applications, Blockchain and Ecosystems, IBM will be in conversation with Chelsea Clinton, Vice-Chair of the Clinton Foundation. Together they'll discuss the ways that creativity and technology are intersecting to bring about change and the importance of educating and inspiring the next generation by providing them with the technology and resources they need to take action.
LIONS Live has partnered with Google to live-stream content through YouTube, with all content also be available on-demand through the LIONS Live platform. Other initiatives to support the creative community will run throughout the week including access to a host of whitepapers, creative resources, and online courses, as well as complimentary access to The Work - the subscription-only archive of more than 200,000 Lions campaigns and 1,600 Festival talks.
People from over 100 countries have already registered their interest for LIONS Live. It's free for everyone and you can register to be a part of it here.
The lockdown across India has resulted in the spike of social media usage. A study done by Statista reveals that...
Media Mantra has been awarded the PR mandate for The Esports Club, a company recognised as the home of Esports...
Dailyhunt
Disclaimer: This story is auto-aggregated by a computer program and has not been created or edited by Dailyhunt. Publisher: TVNews4u