Home
How Content is driving PR: Anindita Gupta, Co-Founder - Scenic Communication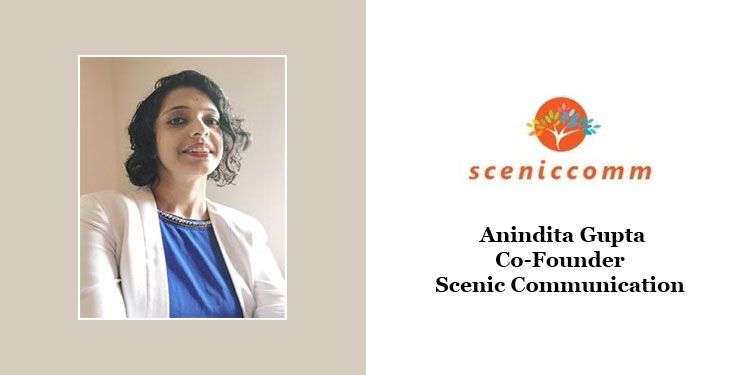 All of us have heard the term 'Content is the new King'. The world around is being driven by content. It is one of the emerging preferred tools that brands are leveraging to engage with their customers. Audiences and customers are welcoming new and good content with open arms, as long as the content is engaging to the audience and interests them. The reach and engagement that effective content is unparalleled.
Many brands are focusing their entire marketing budget to create effective and engaging content. It has become one of the most important if not vital tool used by brands to engage across both traditional and new-age platforms. The rise and popularity of content can also be attributed to digital and OTT platforms that have enables interactive consumer engagement, with real-time feedback and accelerated popularity through instant sharing of good content. Taking from the learning of this, other mediums like advertisements, BTL and ATL events etc., have also woken up to the might of good quality content and are leveraging these effectively to drive brand messaging and engagement.
PR has always been centered around accurately positioning the right messaging at the right platform, reaching out to the right stakeholders. Needless to say, the content has always been an important part of PR, and with the recent explosion of platforms seeking engaging content, brands are more than eager to create and promote PR driven content to make their presence felt!
Here are the 5 key content tools that are driving PR:
Way Forward:
While the last decade saw the rise of content as an unexpected king, this decade is going to see its full might, evolving and disrupting the communication spectrum with innovative and interactive means of engagement. As PR evolves to accommodate wider platforms like digital, social media and influencer engagement etc., content is going to play a vital element in driving consumer and stakeholder engagement, at a wider scale.
Mumbai: Landor Mumbai announces that Lulu Raghavan is one of 25 business school graduates honored by AACSB International (AACSB), the...
Mumbai: According to the company, the 'Honor Rap Battle' campaign, conceived by the creative agency Mullen Lintas, highlight key features...
Dailyhunt
Disclaimer: This story is auto-aggregated by a computer program and has not been created or edited by Dailyhunt. Publisher: TVNews4u