Home
iVIPANAN Celebrated 5th Social Media Day Initiated by Mashable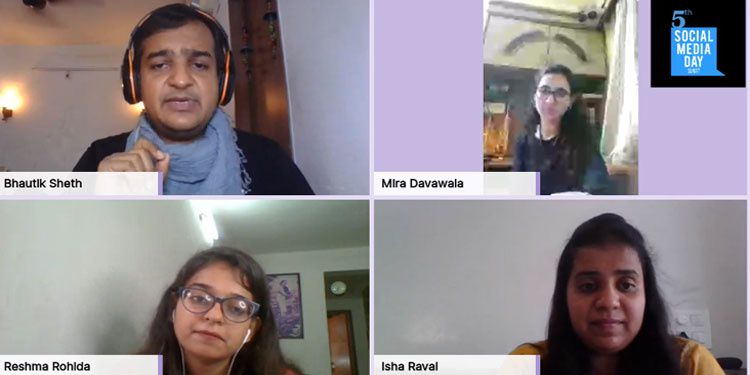 Surat: On 30th June, 2020, Surat-based oldest Digital Marketing agency, iVIPANAN celebrated 5th Social Media Day celebration. They are hosting event from last 4 years for the growth of business and awareness about Social media marketing in Gujarat region. This year, due to Covid19 pandemic and following government's guideline, company organized event with a panel discussion on Facebook Live.
Invited panelists for topic "Social Media Content - Text, Design & Perspective" were Isha Raval [Sr Manager - Client Service & Digital Strategies, iVIPANAN], Mira Davawala [Sr Copy Writer, iVIPANAN], Reshma Rohida [Lead - Creative & Design, iVIPANAN] and Mr Bhautik Sheth [Founder, iVIPANAN] was the panel moderator.
Isha Raval said " Without understanding goal of the business, it's challenging to decide perspective for the content curation. By only posting festival creatives, one can not do right social media marketing."
Panelist & creative lead, Reshma Rohida added "Once identifying content perspective, choose designing elements knowing the behavior of target audience.
Copywriting expert, Mira Davawala insisted using vernacular language in the content. Brands can penetrate in local market with the right use of local language.
Digital Influencer, Consultant & Trainer, Bhautik Sheth wrapped the show concluding to spread knowledge and positivity on every social media platforms to scale the business and build trust with the audience.
Here's a recording of the show :
Join us in interesting discussion on topic 'Social Media Content - Text, Design, and Perspective'.
iVIPANAN ಅವರಿಂದ ಈ ದಿನದಂದು ಪೋಸ್ಟ್ ಮಾಡಲಾಗಿದೆ ಮಂಗಳವಾರ, ಜೂನ್ 30, 2020
While common perception of Artificial Intelligence often tends be a fear of the uncertain, it's in reality a daily companion in our daily life - so loved and familiar, that we...
With almost everything going online, various educational intuitions took to the e-learning mode of education and in a very short...
Dailyhunt
Disclaimer: This story is auto-aggregated by a computer program and has not been created or edited by Dailyhunt. Publisher: TVNews4u