International: Robocash Group has published the results for January-September 2020. Despite the challenging time, it has improved its portfolio quality and all the performance indicators, by optimizing the core business processes.
In the first 9 months of 2020, Robocash Group issued loans worth 217.3 mln USD and reached a high share of repeated customers - 72%. During the same period, the group earned 16.2 mln USD, which exceeds the net profit for the entire 2019. Meanwhile, its revenue amounted to 83.5 mln USD and retained earnings grew to 39.3 mln USD.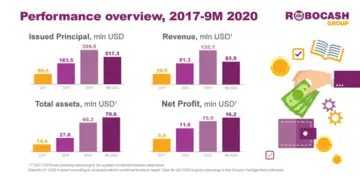 Looking at the group's performance QoQ, its disbursement volumes grew by 34.4% in Q3, while the net profit and revenue increased by 52.8% and 9.1% respectively.
Sergey Sedov
Seeing the impressive results and active growth this year, the group's management has decided to make adjustments to the nearest plans.