Straight Talk
SugarBox is an internet enabler that is disrupting the space to make it more efficient: Rohit Paranjpe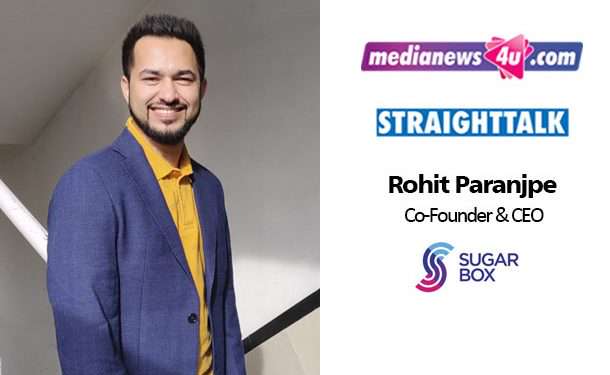 SugarBox is a platform that enables a user to use mobile apps and digital services without requiring internet connectivity.
SugarBox sets up a hyperlocal data delivery and discovery networks at key places of interest (POIs) that are frequented by consumers. These key places can be public places such as a railway or a metro station, hotels, restaurants, malls etc at a time when internet connectivity is patchy and unreliable, SugarBox offers a seamless app experience to users at a SugarBox zone.
In other words, what DTH did to cable TV, SugarBox aims to do to digital service adoption-better and faster delivery, discovery and consumer experience.
In this Straight Talk, Rohit Paranjpe, Co-Founder and CEO, SugarBox Networks, spoke about the platform's disrupting capability and the way forward for SugarBox. The best way to describe Paranjpe is by simply reading what his LinkedIn profile says, and it says,"Founded three companies. Failed. Learnt a lot. Now on to the fourth (hopefully and it does seem so, much wiser) having spent a decade across different aspects of the digital content and media ecosystem in India (in-cab, in-store, licensing and OTT) life seems to have come full circle. Now on to disrupting this space!" states the entrepreneurial zeal that Paranjpe possess.
Edited Excerpts.
How did the idea of SugarBox come about?
The idea came with the experience I had in my previous venture. It was around 2013 or 2014 when I used to run an OTT service called Your Movies. The way we ran that service was by basically collaborating with businesses.It was a B2B2C service, which means that it didn't go directly to the consumer. This service was the default video service in all of the Nokia Lumia phones. Nokia advertised it to the user by promising a set number of 3000 movies free for a certain number of months.
Close to about six months into the service Nokia said that a lot of consumers were going to the retail store with complaints with the service. We observed that the retailer had no clue as to how to address those complaints. So we set up a call center only to receive 20,000 calls in the first five to six days. We went ahead and dug through the reason for those complaints and the first thing people used to say was that the video service wasn't working.
That's what got me thinking, is it possible to build a platform that can translate the same experience that a person has on TV on to digital? And that is really where the work for SugarBox started. But as we started understanding where does the discrepancy lie between TV versus digital and its ecosystem? We realized that the bigger problem is not about any of this, the bigger problem is actually on the last-mile delivery. The problem with the internet is not that the internet cannot give you the experience. The problem with the internet is that the last mile connectivity is one too expensive, second; limited and third; not available to meet the demand of the consumers.
So is there a way to solve the last mile connectivity problem, and that is what SugarBox is all about.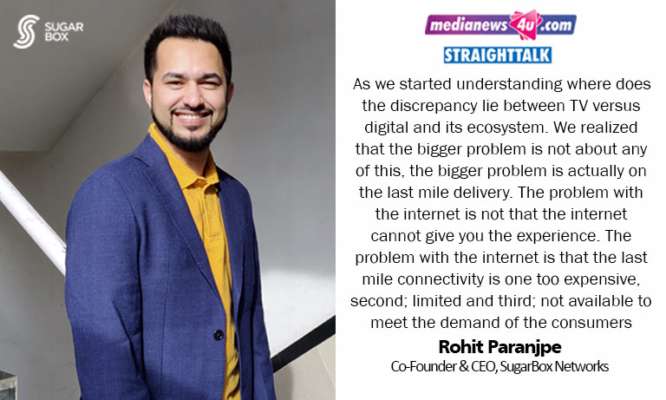 How does one access the applications associated with SugarBox?
Today we are integrated with the ZEE5 app in every place where the SugarBox'shyper local CDN exists which is an electronic router sort of a device. A user can use the app without any internet connection, even remove the SIM card from his phone and use it because it has nothing to do with the users'internet connectivity.A user just needs to open the ZEE5 app and use it the way he/she would always do.
So as of now you only have the ZEE5 app on the SugarBox Network?
Yes. We are in talks with other applications as well.
Does being connected to Zee5 through SugarBox mean that I do not receive notifications from other apps such as Whatsapp and Instagram? I mean I don't need internet for Zee5 so do I switch off my mobile data?
No. so while you are watching content on ZEE5 at a SugarBox zone using the SugarBox service, your other internet connected applications don't stop because you don't need to turn off your mobile data connectivity. Your Whatsapp, Facebook, Instagram and Email all will work as usual, the only difference is that all other apps are connected to internet through your mobile data whereas ZEE5 is streaming through SugarBox networks.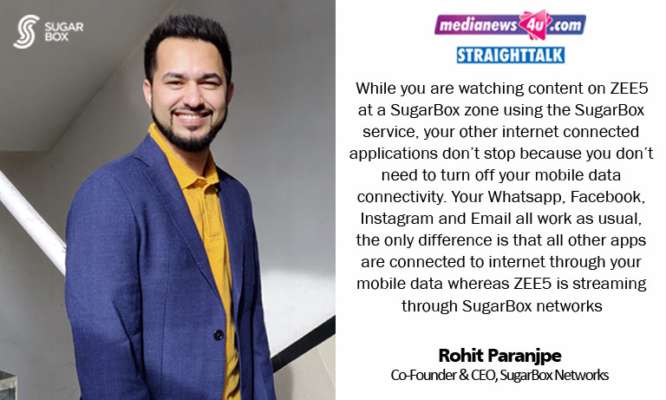 Do you plan to get SugarBox zones in our local trains?
We obviously have to partner with the railways.We already have been awarded a tender from Central railways in Mumbai. Typically if you see the Mumbai Suburban rail network it's divided among central, western and harbour. We will very soon start the implementation and we're expecting by the end of this financial yearto cover close to 165 trains across all of these lines.Users will then be able to enjoy hassle free, seamless streaming of their favourite applications.
What is the physical device that you will install across all the key SugarBox spots?
The physical device is called SugarBox. What goes into a train is literally as small as a WI-FI router probably and about three times its thickness. We can have a SugarBox that supports an entire airport which can have about 10s of thousands of simultaneous users. So that depends on what kind of deployment are we looking at. Conceptually the technology remains the same. It's just that the resources of the physical device change based on our users.
How are you going to be promoting SugarBox? It's a B2B2C. so are you somehow riding on ZEE5 promote SugarBox to the consumer directly, or you're doing your own B2C as well?
So essentially from that standpoint, because it's B2B2C I can't go and talk to the consumer directly. That's a restriction with the model, which is why what we do first is to partner with the places and install the SugarBox device. We identify public places such as hospitals, hotels, cafes and approach them with the benefits of our network. On the successful negotiations we enable the place with the SugarBox network.
Second is going and partnering with the apps so that it starts working. We are also using the traditional PR route for further promotions.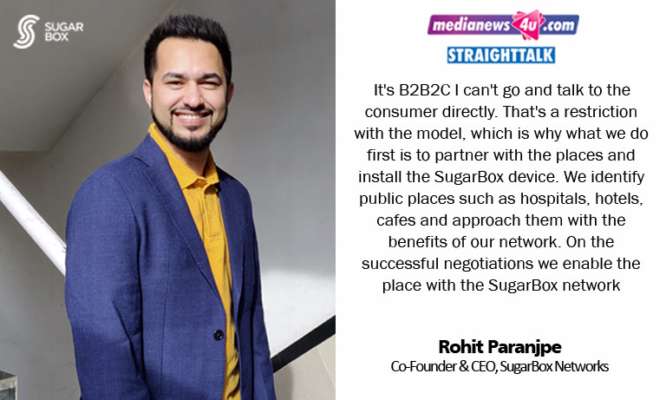 From a competition perspective, do you really have any competitors? Or is it the free Wi-Fi zones that are possible competitors? Not in a direct way, but as long as the service providers almost the same?
We are an optimized last mile connectivity service provider and we optimize last mile connectivity, and so does literally anyone who delivers last mile data. You spoke about Wi-Fi zones. I am saying ISP, telcos as well. Because finally if I am getting into that space. The second is also from a CDN standpoint, because I am also a CDN, indirectly also compete with all of the CDN providers are competitors for that matter even amazon Web Services.
However, we don't look at them as competitors, because the reality of the situation is all of these are internet enablers. We are just one more internet enabler that is disrupting this old space to make it more efficient. We are just making it far more efficient than the way it is. And that's what is required for the internet over the next decade.
Talking about your test cases, how many users are active on SugarBox?
The total user base that we have tested is about 110,000 users. Out of 110,000 users close to about 71,000 users precisely are the users that have experienced this more than once, in fact multiple times, and that's the most important part.
Again, the largest chunk of this user base comes from probably three different places. First, is the Hyderabad Metro purely because of the scale. So that's close to about 150,000 plus users that use these 20 metro trains every single day. We are pursuing a lot of partnerships and alliances, and you will see a whole bunch of them coming up in the next two quarters.
Which are the other apps that you're talking to?
I can't disclose that right now, because it's not signed on the dotted line. But as I said, the industries that we are very actively pursuing are entertainment OTT, the second is gaming, third is e-commerce and the fourth is education. We hope to sign more apps by the end of this year.
Dailyhunt
Disclaimer: This story is auto-aggregated by a computer program and has not been created or edited by Dailyhunt. Publisher: TVNews4u