Home
Schools to re-open from Feb 1 across Jammu and Kashmir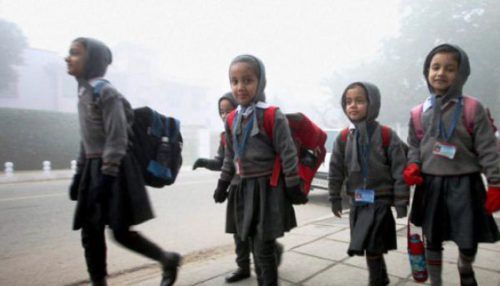 JAMMU: The Jammu and Kashmir School Board of Education on Friday announced re-opening of both private and government schools in the Union Territory from February 1.
The schools were closed across Jammu and Kashmir last year in March following the pandemic, however, students were taught through online classes.
In an order issued by B K Singh, Administrative Secretary to the Government School Education Department, government educational institutes, including recognised private schools, shall physically be opened in a staggering manner.
As per the order, "Schools in Summer Zone areas of Jammu Division for Classes 9 to 12 will commence from February 1, 2021, and in case of elementary classes, teachers shall attend from January 1, while students shall physically attend classes from February 8, 2021".
Whereas, schools in Kashmir Division and Winter Zone areas of Jammu Division will open as per their schedule.
The School Education Department has also issued certain Standard Operation Procedures (SOPs) for running of classes.
According to the SOPs, "For the ownership of the initiative, a Local Committee needs to be framed per school, comprising Parents, VEC members, SMC members and other prominent persons from the habitation for monitoring and support of the School.
"The students can sit almost two meters apart from each other and in case of non-availability of such space, staggered schedule /Shift Timings and student rotation can be an option. All students and Teachers should wear masks," it further read.
"Hand-washing points with proper soap should be made available for the students and teachers. Touching of surfaces by the students and teachers in and around the area of the school should be prohibited," added the SOP.
"Disinfecting, sanitising and cleaning the Learning spaces and surfaces, in convergence with the concerned department and local volunteers, should be a daily affair," read the SOP.
"Personal Hygiene and hygiene of surroundings should be ensured.
"Every student or Teacher should carry her/his own stationery and books and exchange/sharing books, notebooks, pencils, pens and other Items among students/teachers should be strictly prohibited. The student's safety, self-esteem and security should be ensured," it added.
"School authorities should limit any non-essential visitors, volunteers, and activities involving external groups in the School. Director School Education, Jammu/Kashmir will strengthen counselling facilities for 24X7 for needy students." it read.
Dailyhunt
Disclaimer: This story is auto-aggregated by a computer program and has not been created or edited by Dailyhunt. Publisher: U4UVoice