Home
Changing data center dynamics

India has come a long way in its telecom journey. In the late1990s, and, at the dawn of the internet era, dialups and fixed lines were being used in a highly regulated telecom market with few players and little local content. VSATs made up for the lack of enterprise networks, mostly for two-way data transfer and real-time application access. However, these technologies were not adequate to meet the enterprise demand fully.
The opening of the telecom industry to private players marked the first inflection point. The next decade saw the rise of mobile internet users and opening of the market with content players beginning to set up their network nodes in India.
In those early years, the data center (DC) market evolved largely as an extension of the telecom service providers offering data centers-at the points of presence (POP) or cable landing sites of the telcos. Enterprise customers were focused on building their private data centers in a captive environment, as the IT workloads were largely static and data center investments were seen in the same category as real estate, for most customers.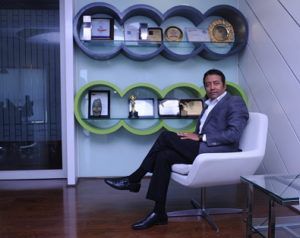 VoicenData Bureau | voicendata
New technologies
The last 4-5 years have seen the emergence of the following technologies in the telecom domain:
* 3G, 4G technologies facilitating a massive explosion in the consumption of data.
* Massive multimedia, OTT, and live content technologies enabling collaboration and live feeds traversing over the networks.
* Cloud technologies enabling faster go-to-market, agility, and flexibility in IT architectures.
* Network transformation tools like software defined wide area network (SD-WAN) enabling the network to be intelligently and centrally controlled and programmed using software applications.
This has resulted in enhancing agility and security in the cloud era, providing cost optimization by utilizing the full potential of network nodes, and giving wings to the network through detailed application and end-user visibility.
Globally, and in India, this technological shift in the last 4-5 years has altered the way data centers were seen and perceived as the nodal points of the network.
Also, with these newer technologies getting adopted, there has been a significant increase in the power consumption by equipment housed in the data centers. This has fundamentally altered the data center architecture to a more power-based model. Global data center statistics show a 74% growth in power vs. 24% growth in space globally, to support the massive amounts of data being generated over the networks, indicating the power-centric nature of the data center.
This, in turn, has moved the model away from the traditional telecom players who were selling space alone, and their data centers were located at strategic network points of presence and cable landing sites, to more focused data center players who could scale to the new-age demands of the data center. This trend is best exemplified by the strategic sale of data center assets of most telecom providers globally as well as in India.
Distributed and mobile businesses
Today's businesses are more distributed and mobile than ever, and companies are moving existing servers, building new data centers, clustering servers in geographically separate locations (geo-clustering), and moving workloads to cloud to provide high-performance, nonstop access to critical business applications and information. This calls for a robust network as well as data center interconnects and cloud interconnects between these geo-clustered data centers and cloud.
The digitization of business models has also led to an emphasis on end-user experience as a key differentiator for many businesses. In the digital world, this end-user experience is largely driven by the integrated network and data center strategy, at an infrastructure level.
Proximity to end users, availability and accessibility of multiple networks, and ability to interconnect to other players in the ecosystem are critical aspects of the data center strategy today, as they drive both user experience as well as the digital transformation strategies of many customers.
New-age data center
Data centers today do not operate in silos or in isolation as IT is no longer driven by a monolithic architecture. Multi-cloud hybrid IT is the norm. Enterprise IT has also to work in conjunction with partner ecosystems such as payment gateways, APIs of other vendors, and SaaS applications. It is in this context that data centers are coming up in clusters of metro areas so that proximity to the ecosystem plays a key role in the overall landscape.
In India, we have seen the data center market develop in Navi Mumbai, Noida, Bengaluru, Hyderabad, Chennai, and Kolkata. Low latency for users and the ecosystem are part of the key technical metrics that drive this decision.
Data center interconnection is today more relevant than in the past, because of workloads getting distributed between data centers, private clouds and public clouds. A robust interconnection ensures that different levels of connectivity are available between two or more data center locations or between data centers and hybrid multi clouds so as to provide flexibility for deploying applications and fulfilling resiliency requirements.
The development of a robust interconnection network portfolio also helps support the overall TCO of the data center offering. Globally, the data center interconnection market is growing at 14% as compared to the space and power market which is growing at 8%.This demonstrates the close synergy between the telecom network offerings and the data center market.
Interconnection today is driven by the emergence of private internet exchanges (IXs), custom-built data center interconnect networks to optimize latency, support scale (10G and 100G wave lengths), and cloud interconnection (availability of express route, direct connect, cloud interconnect and fast connect like services) .
All these telecom solutions revolve around the data center strategy, thus making data centers the backbone for converging varied and new age telecom solutions.
As a strategic partner
Today, the data center provider has evolved into a key strategic partner for most customers in the context of their digital transformation. The data center sourcing decision can no longer be seen through the lens of space and power, but as a part of the overall digital transformation journey of enterprise IT. Customers need to leverage the DC provider on a broader landscape than just space and power. In this context the key criterion for choosing a data center provider turns out to be:
Proximity or adjacency of the data center to the cloud providers: This is a key consideration for not just cost but also the ability to successfully transform the enterprise IT, in a digital world.
Carrier neutral vs. SP-led co-location: Globally, the DC business is moving to a carrier neutral model. In India, due to the stringent regulation around telecommunications, the market is yet to transform completely. So while choosing the DC providers, CIOs should verify:
* Availability of diverse telcos at a data center site.
* Cross-connect policy, pricing, and lead times.
* Overall direction of the data center provider and whether there a service provider lock-in or is the data center provider supportive and neutral in approach.
* Whether the data center provider is capable of supporting a much larger landscape of hybrid and multi-cloud environments, and its investments into interconnection networks.
A prime example in the field of network and DC transformation is Sify Technologies. Sify, which has now completed 20 years at Nasdaq, is one of the first ICT transformation companies in India, having served more than 10,000 businesses across multiple verticals with its trinity of data centers, networks, and security services.
Its all-IP enterprise-focused network has over 3,200 points of presence in 1,600 towns across India. It has also made sizeable investments with nine-pan-India tier-3 DCs, with close to 60 MW of capacity and plans to double capacity in the coming 18-24 months. In addition, it has a focused DC interconnect grid of around 48 on-net DCs and interconnects with leading cloud providers.
Sify data centers host multiple internet exchanges that are truly carrier neutral and network agnostic. They ensure high availability through multiple interconnected MMR, TC rooms on each DC floor, and 3-4 distinct fiber entry paths. Sify secures these assets through industry-specific compliances and a robust framework for security, comprising NOCs, SOCs, and security partners.
Kamal Nath
The author is CEO, Sify Technologies.
Dailyhunt
Disclaimer: This story is auto-aggregated by a computer program and has not been created or edited by Dailyhunt. Publisher: VOICE and DATA