Home
101-yrs-old man takes COVID-19 vaccine shot in Kolkata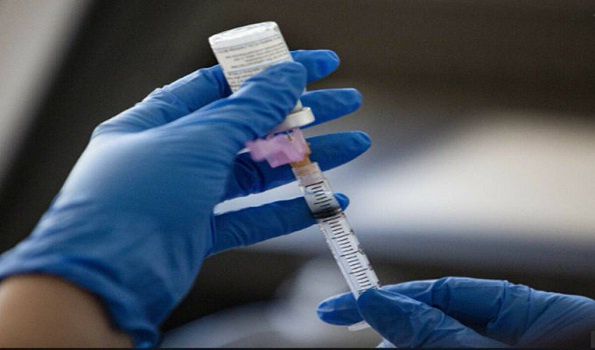 Kolkata:
A man, Tara Chandra Maheswari, 101, received the jab at CK Birla Hospitals, CMRI on Wednesday.
He is possibly the oldest citizen to have receive the vaccine so far in the immunisation drive. Even at this age, he leads an "active life and does not suffer from any major comorbidities." He was upbeat about getting vaccinated without exhibiting any adverse effect
Mr. Maheswari, expressed his joy after taking the shot.
He said "I was anxiously waiting for the arrival of this vaccine, and I am overwhelmed it did, and without any fear I was all ready to get it. I have full faith the vaccine will work wonders on me. It felt like a tetanus shot, and after the vaccine, I felt nothing out of the ordinary other than a slight weariness. We should not believe in the rumours on the negative aspects of the vaccine. I hope the best will come out of this vaccine and save people from this deadly virus".
Speaking on this, Dr. Raja Dhar, Director & HOD, Department of Pulmonology, CMRI said, "The greatest morbidity and mortality is amongst the elderly, especially those above the age 60 years. They suffer from both communicable and non-communicable diseases. Moreover, advancing age is associated with decreased immunity along with physiological changes, and poor health leads to an increased risk of contracting infectious diseases thus becoming major causes of morbidity and mortality among the elderly."
"One of the biggest barriers standing in the way of ending the pandemic isn't medical or logistical. It's the misinformation about the COVID-19 vaccines.We all look forward to getting to the point where everyone can spend time together freely, but that will take time, vaccination is one step in that direction. We must celebrate that for sure and take advantage of it, but we can't entirely let go of the things we've gotten used to doing in the last year," Dr Dhar added.
Dr. Ashok B. Malpani, consultant, Department of Cardiology, BM Birla Heart Research said, "He has got a healthy heart and high spirits. It is rare to see a person of his age being so enthusiastic to get vaccinated. His high spirits encouraged and gave people the reason to look forward to. It requires a lot of the courage and will power to move alone at this age. He deserves special praise and mention for this act. He has set an example and I sincerely hope it will help in removing doubts amid the minds of those who are hesitant to take up the vaccine shots."
(UNI)
Dailyhunt
Disclaimer: This story is auto-aggregated by a computer program and has not been created or edited by Dailyhunt. Publisher: Webdunia English