Home
Do you dream of walking the cobblestoned streets of Paris someday?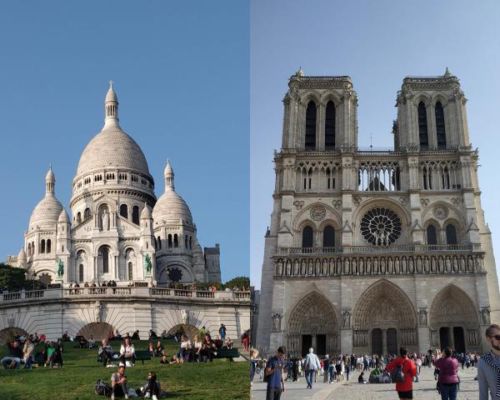 -Noopur Jambhekar

Well, if you answered in yes, you might want to go through these tips that'll not only help you make the most of your trip to this romantic city, but also save yourself from burning a hole in your pocket! (Yes, I'm talking about saving you from the expensive shopping places your girlfriend might ask you to go to)
Paris is a city of love, cute little cafés, amazing photo points and well, tourists!
Of course you're going to be stuffing yourself in those crowded metros. But if you read this guide before you go, you might save yourself from the hassle.
Best places to eat in Paris:

If you're looking for something that's tasteful and not heavy on the pocket, Saint Michel is the place to go. It's filled with small shops and nooks and corners to sit and enjoy the Parisian vibe. You'll find food from everywhere in these little streets. Especially you have to try the Lebanese food here - Chez le Libanais. Also, the best and a very cheap yet a great option if you're a vegetarian is Maoz Vegetarian. They serve Middle Eastern food, falafel, which you can have on the go!
To experience the French cuisine, you cannot miss this one out if you are restricted to eating only vegetarian food. Soupe à l'oignon- it's the Frenchy soup made with sautés onions, cheese and croutons which is later baked for a few minutes so you can experience the delicious Emmental cheese melt in your mouth while you still can have that crunch of the baked crouton. You can find the best one at, Bistrot des Vosges, it's located near Place des Vosges. Even though it's a soup, it'll make you really full.
Best Places to have a photoshoot:

...because who won't want to! In this city of love and romance, you will encounter a lot of people doing shoots in couples but even if you're alone, don't get disheartened, you can still rock with these pictures on Instagram!
When doing a photoshoot in Paris, do not care if people are looking at you, either because of your Cinderella dress or because you're walking with a tripod in your hand. Today, almost all Parisians have made peace with the fact that they're going to be seeing such things on a daily basis! I mean come on, who won't fall in love with this fast paced, city of lights and love.

Disclaimer: Visiting this city(alone) might make you miss a lover you never even had.
Montmartre: The most picturesque place in the whole of Paris (Yes, even more than the Eiffel Tower) if you are not too touristy or conventional. Rise early and shine (quite literally) as the beautiful sun rays fall on your face and later hide behind the tomb of the cathedral.
La Maison Rose: It's a little café situated behind the cathedral of Montmartre where you can either click pictures sipping a cup of hot chocolate on a cold winter morning or enjoy a croissant along with it or walk around more and find a tilted building that seems to be falling on you at an angle. It's good for a fun shot.
The Eiffel Tower: I'm writing about clicking pictures in Paris, if I miss this one, y'all would be mad at me. The best time to click pictures at the Eiffel is in the morning. Early when the sun hasn't risen and there's not much people around. You can get a picture, almost with no people. Or, go to the Rue de l'Université to have the tower in your background.
Secret tip: Although this is the least secret place to click pictures at the Eiffel Tower, go to the station Trocadéro and the verandah is all yours to enjoy.
View from rue de l'université
View from Trocadéro
Notre Dame: Even though this beauty lost a part of it last year, it stands proud and is already on its way to become more beautiful. You can be standing opposite to this cathedral on the bridge and see Notre Dame overlooking you. Not just the front but also the back of the church is quite photogenic. And while you're here, grab an ice-cream that's famous for its absolute lip smacking flavors.
To experience a non crowded Paris adventure, start your day early and end it late. That way you can avoid running into people at every metro station. Also, beware of the pickpockets because you never know who's keeping an eye on you.

Paris is the city that doesn't really sleep. You can roam around anywhere and everywhere or just sit in a park looking at the Eiffel Tower or sit by the Seine river and enjoy your beer (If you do that, also get a pizza, coz beer alone is a bad choice).
Dailyhunt
Disclaimer: This story is auto-aggregated by a computer program and has not been created or edited by Dailyhunt. Publisher: Webdunia English