Home
Harvest season, fear of lockdown causes workers' exodus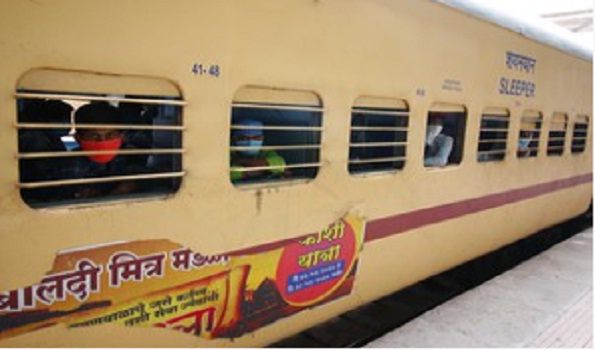 New Delhi:
Bus terminals and railway stations that offer transportation to Uttar Pradesh and Bihar have witnessed an increasing footfall during the past few days.
While such rush at this time of the year is to be expected as this is the harvest season and also the marriage season, this year's rush may be more than usual, as many workers have started to make a go for their home towns and villages fearing another round of lockdown.
Prakash Kumar, General Secretary of Rashtriya Hamaal Panchayat, an organisation working for the rights of workers in the unorganised sector feels that workers are getting worried about the possibility of another lockdown being imposed. "It is a fact that outward migration has started from industrial hubs like Gurugram, Manesar and Noida. After having gone through what they went through last year there is concern among the workers. Many workers are apprehensive that as soon as the assembly elections are over they (Government) would impose a lock down."
Kumar says that the government's track record contributes to the uneasiness among people.
"The government has this habit of imposing big decisions in haste be it GST, demonetisation or the lockdown last year, as elections are on going right now otherwise lockdown would have been imposed by now."
Sunil Kumar Aledia, CEO of Center for Holistic Development (CHD), an organisation working for the homeless people says "the second wave of Covid-19 has hit us like a Tsunami, worker migration has started again most of the corporate media is not reporting on this, the government is silent but the streets of Delhi are speaking. You can see people with their children and their belongings heading for railway stations or bus terminals."
Aledia says that people are interpreting the night curfew as a precursor to an impending lockdown.
Pawan Kumar is an embroidery craftsman at Delhi's Gandhinagar, he is waiting at Anand Vihar Terminal to board a train back to East Champaran district of Bihar. He says that in the past few days work has been hard to come by and he dreads the possibility of being stuck in another lockdown. "Amount of work I was getting came down during the past few days, also the Covid cases are increasing very rapidly here in Delhi which raises the possibility of a lockdown. Hence I do not see the point of staying here and I am returning, for the time being."
Hari Singh is a construction worker, he is waiting at the Sarai Kale Khan railway station to board a train back to Mahoba district of Uttar Pradesh, he is returning home fearing a lockdown.
Singh acknowledges that a lock down would reduce his earning opportunities yet he supports a lockdown. "I am going back because of increasing number of cases here in Delhi and the possibility of a lockdown. However, if it is needed then a lockdown should be imposed, because nothing is as valuable as a human life. I think thousands of lives were saved last year due to the lockdown."
Naresh Gupta, works as a carpenter at Kotla Mubarakpur, he is waiting to board the train for Lucknow at Sarai Kale Khan terminal. He is returning home for Ram Navami and also because it is the harvest season "I feel most of the people are returning home because it is the marriage season and the harvest season, only a few would be primarily returning due to the fear of a lockdown."
(UNI)
Dailyhunt
Disclaimer: This story is auto-aggregated by a computer program and has not been created or edited by Dailyhunt. Publisher: Webdunia English