Home
High voltage campaign ends for 5th phase of assembly election in Bengal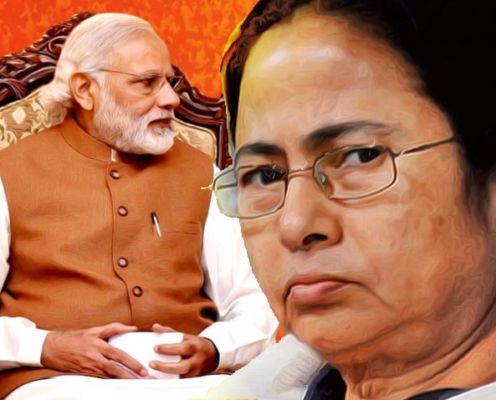 Kolkata: With ruling Trinamool Congress (TMC) facing its toughest challenge to retain power for the third successive term, a high voltage campaign for the fifth phase of West Bengal assembly poll ended Wednesday evening for fortyfive constituencies in six districts.
Bengal has witnessed several high-voltage elections, but the style of campaigning has never been such noisy, ignoring the decibel restrictions prescribed by the pollution control board.
In the fifth phase of polling in West Bengal, elections will be held in 6 districts and 45 assembly seats. The districts include North Pargana Part I, Darjeeling, Nadia Part I, Kalimpong, East Bardhaman Part I and Jalpaiguri on April 17.
The forty five Assembly Constituencies of West Bengal going to polls in fifth phase are: 1. Dhupguri (SC) 2. Maynaguri (SC) 3. Jalpaiguri (SC) 4. Rajganj (SC) 5. Abgram-Fulbari 6. Mal (ST) 7. Nagrakata (ST) 8. Kalimpong 9. Darjeeling 10. Kurseong 11. Matigara-Naxalbari (SC) 12. Siliguri 13. Phansidewa (ST) 14. Santipur 15. Ranaghat Uttar Paschim 16. Krishnaganj (SC) 17. Ranaghat Uttar Purba (SC) 18. Ranaghat Dakshin (SC) 19. Chakdaha 20. Kalyani (SC) 21. Haringhata (SC) 22. Panihati 23. Kamarhati 24. Baranagar 25. Dum Dum 26. Rajarhat New Town 27. Bidhannagar 28. Rajarhat Gopalpur 29. Madhyamgram 30. Barasat 31. Deganga 32. Haroa 33. Minakhan (SC) 34. Sandeshkhali (ST) 35. Basirhat Dakshin 36. Basirhat Uttar 37. Hingalganj (SC) 38. Khandaghosh (SC) 39. Bardhaman Dakshin 40. Raina (SC) 41. Jamalpur (SC) 42. Monteswar 43. Kalna (SC) 44. Memari 45. Bardhaman Uttar (SC).
The Election Commission has decided to increase the Silent Period of the campaign for this phase by 24 hours and as a result, the campaign will end a day earlier on Wednesday. This decision was taken after the mob storming and firing incident at Polling Station No. 126 in Sitalkuchi Assembly Constituency in Cooch Behar district during the Fourth Phase of polling on last Saturday. Five persons lost their lives in two incidents in the district.

In all, 319 candidates including 39 women will be vying for the 45 Assembly seats spread over six districts during the Fifth Phase. Over 1.12 crore voters including 55.80 lakh women and 234 Third Gender persons will decide the fate of these candidates. Total 15,789 Polling Stations have been set up for this purpose.

Bharatiya Janata Party is contesting for all the 45 seats while ruling AITC is contesting 42. Congress, Left parties and their alliance partner Indian Secular Front are fighting under the banner of Sanyukta Morcha. BSP has fielded 32 candidates, CPI (M) has 25, Congress - 11, AIFB - two, RSP, NPP and CPI one each while there are 83 independents along with 76 others are also in the fray.

Leaders of various political parties are on a whirlwind tour across the constituencies as they are leaving no stones unturned to woo the voters.BJP president J P Nadda is holding a road show at Bangaon of North 24 Parganas before addressing two meetings in Bardhaman while Smriti Irani participated in a road show at Bardhaman before attending rallies in North 24 Parganas.
Earlier, Mr Nadda attended a programme this morning where he accused the TMC chief of being against dalits and said that the government of West Bengal has turned a deaf ear to their well being.(UNI)
Dailyhunt
Disclaimer: This story is auto-aggregated by a computer program and has not been created or edited by Dailyhunt. Publisher: Webdunia English