Home
NEW EMERGING TECHNOLOGY TO BREAK THE PANDEMIC CHAIN Introducing SHYCOCAN by Scalene Cybernetics Limited
To combat the spread of fatal pandemic, a new revolutionary device, SHYCOCAN, was launched here in Hyderabad by the Hon'ble Health Minister, Shri Etela Rajender Garu. The device is intended to prevent, in closed spaces, air-borne and surface transmission of Corona Family of viruses. It was presented by Dr. Shiven, Associate of Scalene Cybernetics Limited. Incepted in Wuhan of China, SARS-CoV-2 widely recalled as CoronaVirus has disrupted the lives of individuals across the world. Over a million people have lost their lives and several others go infected.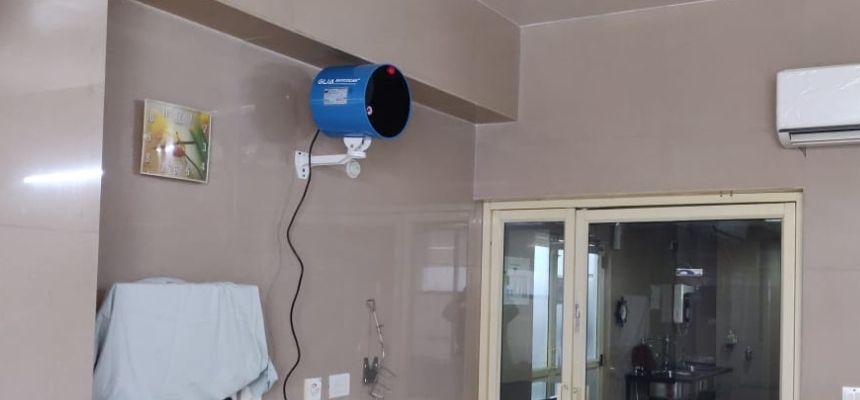 The impact of Covid-19 is truly unprecedented and immeasurable. While we are moving towards normalcy in accordance with the unlock protocols, it has become imperative to take extra precautions and stay safe from the fatal virus. In this regard, Scalene Cybernetics Limited from Bengaluru, headed by its Chairman & CSO Dr. Rajah Vijay Kumar, invented a device to meet most emergent needs during the Covid19 Public Health Emergency. Scalene Cybernetics Limited is bringing novel, noninvasive, engineering solutions to human health problems. Named as SHYCOCAN (Scalene Hypercharge Corona Canon), the device is intended for the physical attenuation of the family of coronaviruses and can be used in public or personal settings.
The SHYCOCAN device is CE Certified & notified by USFDA under 'Enforcement Policy for Sterilizers, Disinfectant Devices, and Air Purifiers During the Coronavirus Disease 2019 (COVID-19) Public Health Emergency'. In a new study, scientists inched closer to creating a therapy that acts as a Covid-19 bouncer. This research was published August 2 in the journal ACS Nano.
After analyzing the cellular and molecular dynamics of the virus, researchers pinpointed a weak spot of the viral structure — just 10 nanometers away from the binding site of the spike protein. #109, Sunshine IRIS Appartement , Hanuman Nagar, Manikonda, Hyderabad, Telangana. Tel: 9849093525, 6309994567 Email: sai. sat i shk@gmail.com ARAV Associates This tiny but pivotal location is positively charged, which allows strong bonding between the virus protein and negatively charged human cell receptors.
The study team subsequently designed a negatively charged molecule to bind to the positively charged location, also known as a cleavage site. Blocking this site inhibited the virus from bonding to the host cell. Giving his note on the occasion, Dr. Shiven, Associate of Scalene Cybernetics Limited. said, 'SHYCOCAN operates by generating necessary signals to a photon mediated electrons emitters (PMEE),
that produces hypercharge high velocity electrons that interacts with the negative seeking S-protein of Corona Family of viruses thus reducing infectivity and prevent air and surface borne transmission of Corona family of viruses.' Dr. Sailesh Kolanu, an Optometry and Vison Science Specialist came across this device while browsing online and installed SHYCOCAN at his home and office a couple of months ago. Talking about his experience, he said, 'I understand the science behind this product and it has definitely given me a sense of residing in a safe and sanitized ambience. I am feeling more secure than before. The device has been performing exceptionally well without any hassles.' It was an insightful event to witness the emerging new technology. State administration department is looking forward to ensure safety of people at public places by embracing such technologies.
For further details, Call Dr. Shiven: +91-9440668468
Dailyhunt
Disclaimer: This story is auto-aggregated by a computer program and has not been created or edited by Dailyhunt. Publisher: Welthi