Home
SLG Hospitals Doctors hold 'Sakhi' meet, an empowerment initiative for health and wellbeing of women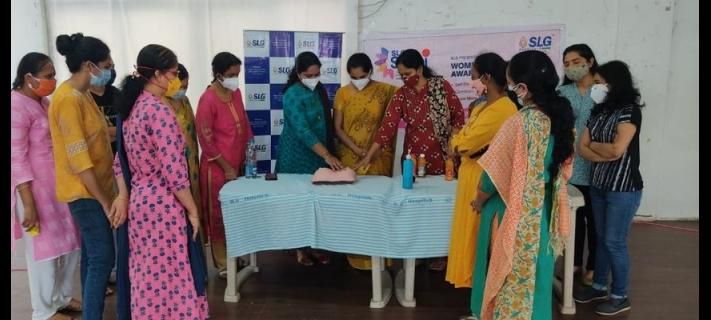 Image used for representational purpose only
Hyderabad, July 18th, 2021: SLG Hospitals, one of the leading healthcare providers in the city today organized 'Sakhi' meet, an empowerment initiative for health and wellbeing of women at the Hill County residential community in the city. Dr. Suvarna Rai, Consultant Gynecologist & Obstetrician, and Dr. Swarna Kumari, Consultant Radiation Oncologist, both senior medical practitioners with SLG Hospitals addressed the gathering.
The initiative is an effort to help women to perform self-assessment to evaluate health conditions like breast cancer, anemia, menstrual problems, and any other complications. The training provided under this initiative will help women to conduct the much-needed self-analysis before reaching out to a doctor for further evaluation.
Speaking on the occasion, Dr. Suvarna Rai, Consultant Gynecologist & Obstetrician said, "Self-examining of breasts is a simple yet important way to trace breast cancer symptoms early! Women are best advised to conduct self-assessment of certain ailments and ascertain the condition, before seeking right medical help. Conditions like breast cancer, anemia, problems associated with menstruation, and few others can be done at home, and we strongly recommend women to do the same. Focus will also be on vaccines available to overcomes certain serious ailments like cervical cancers which are easily preventable."
"Lack of hygienic practices among certain sections leads to ailments like cervical cancers, and many girls fall victims to this problem unknowingly. There are simple tests like 'Pap test' which will help detect the problem, and timely vaccination will help contain the problem efficiently. It is advised that even male children in the age group of 9-14 years take HPV vaccine to prevent certain head, neck, and penile cancers; and this vaccine will ensure they do not transmit cervical cancer causing virus to their future female partners," added Dr. Swarna Kumari, Consultant Radiation Oncologist, SLG Hospitals.
As a part of SLG Sakhi initiative, the team of experts from various disciplines will visit various residential societies to hold awareness sessions with women, share knowledge and techniques on self-assessment.
About SLG Hospitals:
SLG Hospitals is located at Bachupally, Nizampet, Hyderabad. It is constructed to 999 patient care beds in various specialties with all the necessary medical infrastructure for a holistic medical care its preventive healthcare division offers screening programs for all age groups to identify potential health risks reloaded to current lifestyle, personal or family medical history.
---
Disclaimer:
Welthi.com does not guarantee any specific results as a result of the procedures mentioned here, and the results may vary from person to person.
Dailyhunt
Disclaimer: This story is auto-aggregated by a computer program and has not been created or edited by Dailyhunt. Publisher: Welthi