Lifestyle
Here's Why Shani Dev Is the Teacher Of Immortal World
The planet Saturn and an incarnation of Lord Shiva, Shani Dev one of the nine divine objects of Navagraha in Hindu astrology. He is capable of either creating havoc in one's life or blessing them with happiness. Shani Dev's presence can turn the lives around.
Also known as Ara, Kona and Kroda, Lord Shani is the deity of justice. He is the basis of 'Shanivara'- one of the days in the Hindu calendar.
As mentioned in some ancient texts, Shani Dev resides in the Pipal tree and is easy to get angry. He is the son of Surya and his wife Chhaya and hence is also called Chayyaputra. The supreme deity is the cousin of the god of death, Yama. The devotee of Shiva, Shani was granted the authority punishing or rewarding people for their good or bad actions.
Here's all that you would love to know about the teacher of the mortal world:
Why is Shani Dev black?
The lord was born dark, just like Maa Kali. The dark colour of his skin is not because his anger can alter anyone's future, but because of his mother. As stated in the tales, when Shani was in his mother Chhaya's womb, shiv bhaktini, she was immersed in great penance.
Chhaya prayed with such devotion that she forgot about food and water. She stood still and tall in the sharp sunlight and hence the intense heat gave Shani Dev his skin colour.
Is the Lord really brutal?
The lord of justice isn't really cruel, he just lives up to his name. He believes in serving justice and presents people with the fruit of their actions.
Lord Shani is pleased if a person does some kind deed, but is angered if someone is being evil.
What is the relation between him and Hanuman?
The reason, why the son of air and the son of fire are related, is that once when Ravana imprisoned Shani and mercilessly tortured him, Lord Hanuman rescued Shani Dev since he was a devotee of Sun God. Since then Lord Shani promised to always take care of Hanuman's devotees and followers.
He is said to have an evil eye since birth.
As said, Shani's appearance is considered to be disastrous. According to the tales when the Lord was born, he glanced at his father Surya, who immediately went into a period of eclipse. Hence, it is believed that the Saturn's presence or the evil looks started right after his birth.
How are Sade Sati and Shani Deva related?
Sade-Sati is the 7 1/2 years-long period of Saturn.
Shani has a long orbit around the Sun, he takes about 29.457 years to complete a rotation around the sun. Each time he rotates, he passes by all the zodiac signs. Hence, Shani visits every individual's zodiac every 25 years, leaving the effect for about 7 and a half years. And this period is called Sade Sati period.
Is the lord 'weak' in one leg?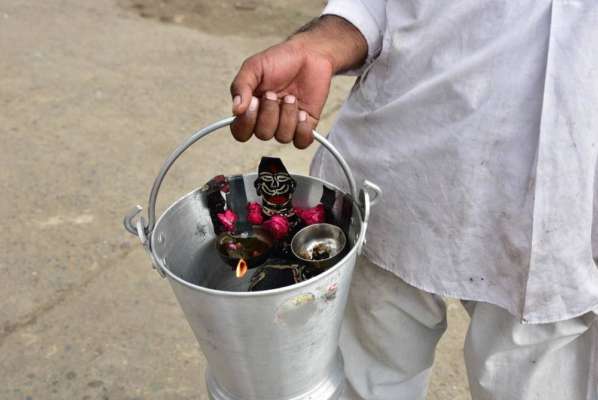 Legend has it that, when Lord Shani kicked his foster mother because she was delayed in serving him food. As a result, she cursed the lord to become weak in one leg.
However, this is also symbolic because Shani moves very slowly around all the planets taking 29.5 years to complete one revolution around the sun and hence is called slow moving i.e Mandha.
Lord Hanuman once tied Shani Dev with his tail.
When Hanuman was praying to Lord Ram, sitting under a tree, Shani Dev interrupted him and claimed to be the most powerful God.
Hanuman opened his eyes and warned Shani Dev to not create any kind of disturbance. But he did not listen and hence Lord Hanuman tied him with his tail to punish him.
Why does the Lord like oil?
The idol of Shani Dev is always bathed and massaged with barrels of mustard oil. The oil is the symbol of pains that are soothed.
According to Hindu mythology, Lord Hanuman offer Shani mustard oil to calm the pain down which was caused because of a tiff between the both of them.
Tell me what else would you like to read about at saloni@vatsana.com.
Dailyhunt
Disclaimer: This story is auto-aggregated by a computer program and has not been created or edited by Dailyhunt. Publisher: Wittyfeed Global