Home
90% of these altcoins outperformed Bitcoin recently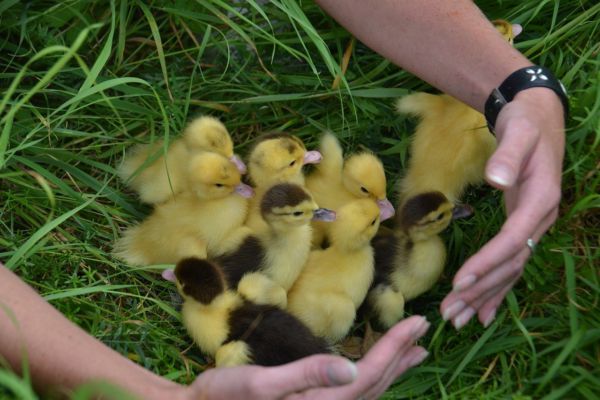 Experts often say the altcoins rally with Bitcoin, and even fall with it. On 21 January, Longhash revealed that in the last seven days, 92% of crypto tokens "outperformed Bitcoin."
Bitcoin rallied to new ATHs and has remained over the $30,000 range, which still accounted for less volatility compared to previous rallies. However, with increasing prices, and FUD taking over traders, the asset seems to be facing a period of stagnation, at least for now. In the past week, the asset's price fell 12% against the dollar.
Based on Messari's price data, Longhash tracked 69 crypto tokens - each of which daily reported trading volume of about $100 million. Among these, 66% of tokens' prices increased in the past week, and over half of the 46 tokens that gained against the dollar increased more than 10%.
A mere 33% of tokens' prices went down against the dollar. Specifically, prices of five tokens, including Wrapped BTC, Dash, Bitcoin SC, Zcash, and Maker fell by much more.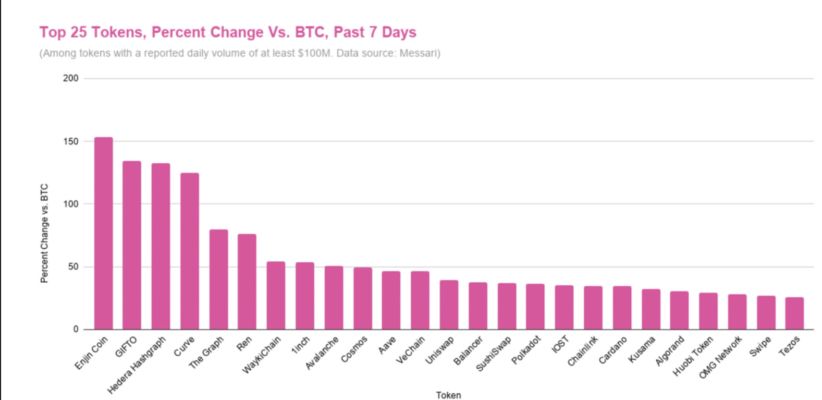 Source: Longhash/Messari
Longhash data stated that Bitcoin "has seen one of the most dramatic drops," among tokens that have been falling over the week. However, experts predict the current dip in BTC prices is a temporary setback before the asset rallies to bigger numbers.
Days after ECB President called for regulating Bitcoin because of its
#Bitcoin 'has conducted some funny business and some interesting and totally reprehensible money laundering activity,' @ECB President Christine Lagarde said at the #ReutersNext conference https://t.co/iaZUQ9LYZQ pic.twitter.com/ciKDqJZnbV

— Reuters (@Reuters) January 13, 2021
to illegitimate activities, the asset gained a new critic, which could have fueled FUD. Recently, President Biden's pick for Treasury secretary, Janet Yellen, believed that cryptocurrencies "are a particular concern."
Although altcoins seem to perform better than Bitcoin, at the moment, no crypto would be able to replace Bitcoin, given its large market capitalization. For instance, Ethereum was up 22% against Bitcoin in the past week, but as Longhash noted, "Ether's market cap could quadruple and it would still be behind Bitcoin."
In the last 24 hours, about $1 billion in crypto was liquidated and Bitcoin has been down by roughly 7%. The asset was trading at $32,043.96 at press time. Further, whales were depositing Bitcoin to exchanges, which could further influence prices,
Whales are depositing $BTC to exchanges.

No doubt it'll hit $100k this year, but in the short-term, if we wouldn't see any significant buying pressure from @CoinbasePro, I think $BTC would be bearish.

Should keep eyes on Coinbase outflow and Coinbase Premium(will launch by tmr) pic.twitter.com/kotHydfxfM

— Ki Young Ju 주기영 (@ki_young_ju) January 20, 2021
to CryptoQuant's Ki Young Ju:
Whales are depositing $BTC to exchanges.

No doubt it'll hit $100k this year, but in the short-term, if we wouldn't see any significant buying pressure from @CoinbasePro, I think $BTC would be bearish.

Should keep eyes on Coinbase outflow and Coinbase Premium(will launch by tmr) pic.twitter.com/kotHydfxfM

- Ki Young Ju 주기영 (@ki_young_ju) January 20, 2021
---
Follow Us Twitter | Facebook | Google News
---
Dailyhunt
Disclaimer: This story is auto-aggregated by a computer program and has not been created or edited by Dailyhunt. Publisher: Ambcrypto