Ap Politics
Chinese national Luo Sang arrested by IT Department for running hawala racket and living in India for six years under fake identity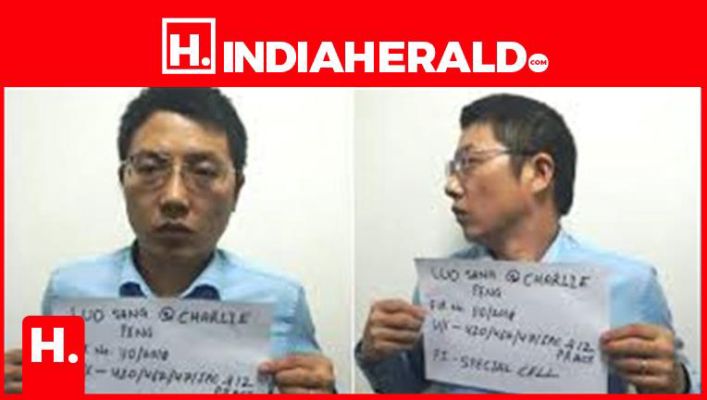 Reportedly prime accused in the delhi hawala racket Luo Sang alias charlie Peng was earning enough profit even when he was 19. Back in tibet, he started off as a trader in a local medicinal herb called Dong Chong Xia Cao. In 2009, at the age of 31, he went to nepal on foot along with six Tibetans. Then in 2014, he came to majnu ka Tila in delhi on a bus from Kathmandu.
Four years later, in september 2018, he was arrested by the Special Cell of delhi police on charges of espionage. police had alleged he was spying for china and also running money laundering and hawala businesses. However, he was let go by the court. india Today has accessed details of Sang's interrogation while in delhi Police's custody.
Born in Tibet's Lhasa, Sang had told interrogators that he had a broken childhood. His parents separated when he was only eight months old; his mother married another man and settled in Nanjing, where he did his schooling.
In nepal, Sang stayed in a Gelug monastery near Kathmandu for five years. There, he restarted his herbs business, and again earned good money. Sang told sleuths that at the monastery some people suggested that he go to india to earn more money.
In majnu ka Tila, he was staying at punjabi basti and started doing business in clothes and shoes which he used to order through the online portal 'Alibaba'. As he knew Chinese, he was able to converse with Chinese exporters and earned their faith. After a brief stint in bengaluru, he returned to delhi and procured Aadhaar and PAN cards through a tout. As his business grew, Sang shifted from Dwarka to Gurugram and opened a company in the name of Sunhara Bird india Private Limited, from where he was running a money exchange business. Though agencies are investigating Peng's Chinese links, it appears he never really hid them. As per his social media account, which has a different profile name, he worked for china Galaxy Securities, a Chinese brokerage and investment bank, and left the job in 2008. He studied at Jinling High school, located in Nanjing's Gulou district, according to the same account.
On august 11, income tax officials raided 21 locations in Delhi-NCR after "credible information" of Chinese involvement in money laundering. Sang was nabbed from one of these locations. Official documents, reviewed by india Today, show that the 42-year-old had joined the board of at least five companies in Delhi-NCR and controlled most of them as a majority stakeholder.
Elon Musk entered elite group of five richest people on Earth
Temperature in Death Valley, California recorded 130 degrees Fahrenheit
1,682 fresh cases registered in Telangana
Telangana Assembly Session to begin from September 7
Amit Shah admitted in AIIMS for chest infection
Music Director introduces Famous Singer's son
Source: India Herald - SIBY JEYYA
Dailyhunt
Disclaimer: This story is auto-aggregated by a computer program and has not been created or edited by Dailyhunt. Publisher: ApHerald