Home
Mahindra, Sonalika record strong tractor sales, set to harvest robust growth in FY2021
The monsoon has arrived across India and brings along good news for domestic tractor manufacturers, who look set to harvest a season of strong growth. If the June sales numbers from two leading manufacturers are any indication, then this sector is headed for a good performance this fiscal (FY2021).
With the IMD forecasting the south-west monsoon to be at 102 percent of the long period average (LPA) in calendar 2020, the rains are well-distributed at 96-107 percent of the LPA in all the four regions. The monsoon's approach has been timely with rains 21 percent above normal in June. The forecast for July and August - crucial months for kharif crop - is also encouraging at 103 percent and 97 percent respectively.
(FES) sold a total of 35,844 tractors in June 2020 in the domestic market, up 12.43 percent year on year (June 2019: 31,879). Total sales (domestic and exports) during the month were 36,544 units, up 10.42% YoY.
Commenting on the performance, Hemant Sikka, President - Farm Equipment Sector, Mahindra & Mahindra, said, "This is our second-highest June sales ever. The timely arrival of the south-west monsoon, combined benefits of a record rabi crop, government support for agri initiatives and very good progress in the sowing of the kharif crop have led to positive sentiments among farmers. These underlying factors along with better cash flows in rural markets have helped boost tractor demand during June. It is expected that this demand will continue to remain buoyant in the coming months. In the exports market, we have sold 700 tractors."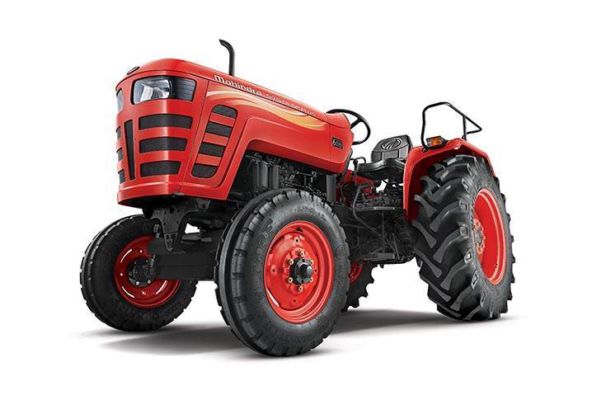 of tractors in Maharashtra. The 575 Sarpanch Plus, an upgrade of its popular 575 Sarpanch, offers models in the 30hp (22.37kW) to 50hp (37.28kW) category. The company says the new tractor develops 2hp (1.49kW) more power, higher max torque and back-up torque, to cover more land quickly.
Mahindra claims that the new engine technology delivers higher power and best-in-class fuel efficiency. This ergonomically designed Sarpanch range comes with Mahindra's industry-first, six-year warranty and can be booked online for an initial payment of Rs 5,000. It is also available at Mahindra Tractor dealerships across Maharashtra.
, another leading tractor manufacturer in India, reported sales of 13,691 units in June, registering 55% YoY growth. Together with exports, total tractor sales for the month were 15,2000 units.
Commenting on the numbers, Raman Mittal, executive director, Sonalika Group, said, "At the beginning of Q1 FY2021, when the first lockdown was announced, we decided to put all our energies with positive effort to try not to de-grow in the quarter. We have not just achieved our goal but also have registered an overall growth of 5% in Q1. We are extremely delighted with the overall robust performance in June 2020 with 15,200 tractors, which is our highest ever."
He added, "Tractor demand and farmer sentiment have picked up on account of various conducive factors like government initiatives including increase in MSP price, favourable monsoons and bumper sowing of summer crops. The farmers are happy with the money in their hands on account of a good rabi harvest. This positive sentiment is expected to continue and we are well positioned to gain from the same."
Ratings agency CRISIL expects there will be just 1 percent contraction in tractor sales volumes this fiscal.The company says despite a 37 percent YoY decline in April and May combined, tractor volumes will likely be barely a percent below last fiscal's level, in sharp contrast to a double-digit decline expected for the rest of the automobile industry. That, and lower raw material costs and strong balance sheets bode stable credit outlook for tractor makers this fiscal.
What's also helping the tractor industry is that the rural supply chains for tractors have been quick to bounce back from the lockdown, too, with more than 75 percent dealerships having reopened. That, along with some pent-up demand from March, led to 4 percent growth in domestic tractor sales volume in May, despite the impact of the pandemic. And, the robust June sales numbers indicate good going for the rest of the fiscal.
The sustained volumes, combined with benign raw material prices (80% of total costs), will support tractor profitability (EBIT margins) this year. The prices of key inputs such as steel and iron are expected to reduce by 4-6 percent, which would provide manufacturers the headroom to increase discounts to stimulate volumes, if needed. Incidentally, even in fiscal 2020, lower commodity prices had helped the industry maintain margins despite a 10 percent volume decline.
Naveen Vaidyanathan, associate director, CRISIL Ratings said: "Operating profitability of tractor makers should remain strong at 15 percent this fiscal. Given limited capex needs, credit profiles are expected to remain healthy, with the debt-to-equity ratio for the industry likely to sustain below 0.1 time."
CRISIL says the pandemic's progress, the distribution and volume of rains, and timely containment of the locust attack will be key monitorables from here.
Dailyhunt
Disclaimer: This story is auto-aggregated by a computer program and has not been created or edited by Dailyhunt. Publisher: Autocarpro