Politics
Controversy! PM Modi Talks of Bihari pride though most Martyrs not from Bihar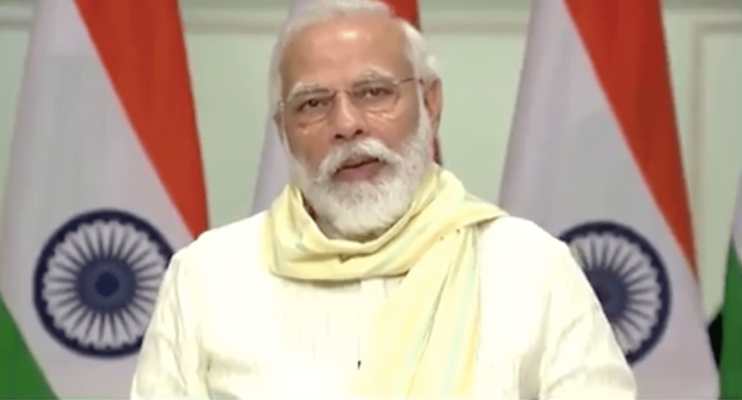 PM Modi spoke about Bihari pride as it was the Bihar regiment that fought off the Chinese and lost 20 soldiers in the process. But there is a catch!
#WATCH - Country is proud of the sacrifice made by our braves in Ladakh. Today when I am speaking to people of Bihar, I will say the valour was of Bihar Regiment, every Bihari is proud of it. I pay tributes to the braves who laid down their lives for the nation: PM Narendra Modi pic.twitter.com/l7ou255zUI

- ANI (@ANI) June 20, 2020
The only catch is that 15 of the 20 soldiers were not from Bihar. The soldiers who lost their lives came from East, North and South, a truly national regiment.
Bihar - 5
Punjab - 4
Jharkhand - 2
Odisha -2
Bengal -1
Uttar Pradesh -1
Telangana - 1
TN -1
MP -1
Chhattisgarh -1
Himachal -1
The PM was accused of canvassing for votes in the forthcoming Assembly election in Bihar by specifically talking about BIhari Pride. Usually State pride is spoken off while talking about Individual soldiers. So, it would not have been out of place if the PM was travelling to Bihar and was commending the bravery of the 5 martyrs from Bihar.By talking about State pride because of the name of the regiment, PM was accused of canvassing for votes from Bihar given the upcoming election there.
RW twitter handles quickly defended the PM
1- Bihar regiment was stationed in Ladakh
2- They were supposed to be relieved but Coronavirus was brought to delay that
3- China was asked to build up tensions
4- Physical confrontation initiated
5- 20 soldiers died so that Modi can praise Bihari valour ahead of Bihar elections pic.twitter.com/j29xHckAv3

- Gappistan Radio (@GappistanRadio) June 20, 2020
Bihar responds very differently to conflicts with Pakistan vs conflicts with China. Google Trend data shows Bihar is one of the highest States when it comes to looking for information about Pakistan but not so when it comes to information about China.
The Latest CrowdWisdom360 predictions are suggesting that NDA will end up with around 125 Seats. A simple majority. Our district level analysis shows that BJP could end up with about 43% vote share across the state, just enough to win a majority.
In the meanwhile the martyred soldiers were laid to rest with full military honours
Sep Ganesh Hansda, #Braveheart who sacrificed his life for the #Nation at #GalwanValley was laid to rest with full #Military honours at his native village Kasafulia #East Singhbhum #Jharkhand.#IndianArmy #NationFirst pic.twitter.com/nRcL8JnvNZ

- ADG PI - INDIAN ARMY (@adgpi) June 20, 2020
Sep Aman Kumar, #Braveheart who sacrificed his life for the #Nation at #GalwanValley was laid to rest with full #Military honours at his native village Sultanpur Purab #Samastipur #Bihar.#IndianArmy #NationFirst pic.twitter.com/r0UaV77387

- ADG PI - INDIAN ARMY (@adgpi) June 20, 2020
Sep Jaykishore Singh, #Braveheart who sacrificed his life for the #Nation at #GalwanValley was laid to rest with full #Military honours at his native village Chakfatah #Vaishali #Bihar.#IndianArmy #NationFirst pic.twitter.com/I2F70fh0XI

- ADG PI - INDIAN ARMY (@adgpi) June 20, 2020
Naib Subedar Nuduram Soren, #Braveheart who sacrificed his life for the #Nation at #GalwanValley was laid to rest with full #Military honours at his native village Champauda #Mayurbhanj #Odisha.#IndianArmy #NationFirst pic.twitter.com/6KtEta62m8

- ADG PI - INDIAN ARMY (@adgpi) June 20, 2020
Sep Kundan Kumar Ojha, #Braveheart who sacrificed his life for the #Nation at #GalwanValley was laid to rest with full #Military honours at his native village Dihari #Sahibganj #Jharkhand.#IndianArmy #NationFirst pic.twitter.com/L0NqMd2dUk

- ADG PI - INDIAN ARMY (@adgpi) June 20, 2020
Naik Deepak Singh, #Braveheart who sacrificed his life for the #Nation at #GalwanValley was laid to rest with full #Military honours at his native village Faraida #Rewa #MadhyaPradesh.#IndianArmy #NationFirst pic.twitter.com/aHjrOJN8tw

- ADG PI - INDIAN ARMY (@adgpi) June 20, 2020
this:
Dailyhunt
Disclaimer: This story is auto-aggregated by a computer program and has not been created or edited by Dailyhunt. Publisher: CrowdWisdom360