News
ICG's timely action saves precious lives of 7 crew members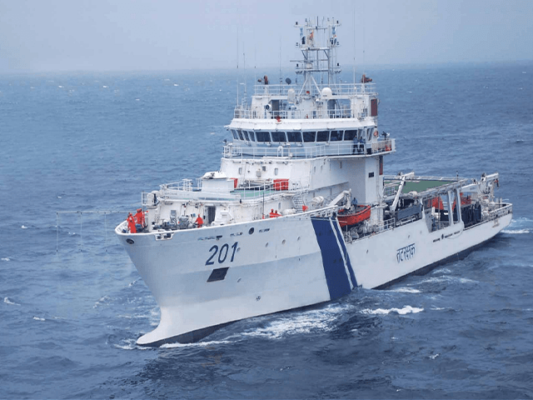 Tamil Nadu: Chennai, January 24 (HS):

The seven crew members of MSV Messiah reached the shores safely, thanks to the timely action of Indian Coast Guard (ICG).
MSV Messiah began its journey from Tuticorin in Tamil Nadu on 19 January with cargo for Kavaratti.
However the vessel started experiencing flooding onboard it at about 5 am yesterday when it was off Kalpeni Island and began sinking.
Soon after seeing the distress on the vessel, crew members alerted their owner at Tuticorin.
Sources say, though owner alerted the port authorities that MSV Messiah would enter Kalpeni port
for shelter, the ship did not make its way to harbor.
As the ship did not enter the port, the authorities alerted ICG.
ICG Ship patrolling in the area was diverted and an aircraft was launched from Kochi.
An interceptor boat was also sailed from Kavaratti for locating the distressed vessel.
The Coast Guard Dornier sighted the crew of MSV
Messiah floating in a partially submerged lifeboat around 30 nautical miles south west of Kalpeni island.
The ship was vectored towards the lifeboat and despite strong winds and adverse weather all the crew were picked up safely.
The crew later told that their vessel MSV Messiah sunk at around 9 am and since then they were floating in lifeboat praying to be rescued.
ICG Ship Sujeet rescued seven crew members of MSV Messiah.
ICG sources said all personnel rescued were safe onboard Coast Guard ship.
S.Vishnu Sharmaa/HS
Dailyhunt
Disclaimer: This story is auto-aggregated by a computer program and has not been created or edited by Dailyhunt. Publisher: Hindusthan Samachar English