Home
Rising Shipment On Foreign Bottom Poses New Security Risk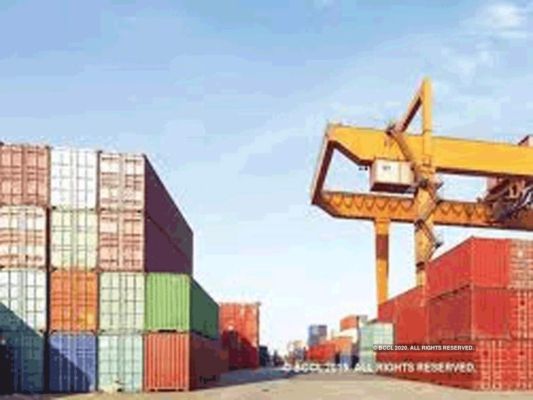 By Nantoo Banerjee
At a time when India claims that the country is eventually prepared to face any external attack, it reveals little of its actual strength to support the defence and military structure in case of a full-scale war with either China or Pakistan, or both. India's highly import dependent economy, especially for petroleum, sophisticated arms and ammunitions, strategic materials and even tyres and electronics, is also the biggest employer of foreign ships to them home. Over the years, the government badly neglected its vital merchant shipping capacity. India imports almost 85 percent of its petroleum requirement, largely on foreign tankers. India's share in world's seaborne oil and gas export-import trade was 8.89 percent (2018-19) and India's share in world's oil and gas tanker tonnage is only 1.83 percent (2019). Indian ships' share in Indian overseas trade in POL / Products and other liquids in 2017-18 was 49 MMT out of 371 MMT.
India's poor merchant marine capacity for sea borne trade should be a matter of serious strategic concern for the country. With over $800-billion foreign trade in 2018, ranking 10th position in import and 18th place among exporting countries, India ranks a poor 25th position when it comes to its share of sea borne trade. Its cargo carrying capacity is dwindling. If private companies are not keen to enter this highly competitive ocean going trade, nothing prevents the government to build large public sector shipping companies on the lines of Shipping Corporation of India (SCI) with specific focus on tanker, bulk carrier and container trades. India is the world's third largest importer of crude oil. In 2019, India's oil import was worth $102.3 billion, below China's $238.7 billion and US $132.4 billion. India's share of overall imported crude oil was 9.7 percent as against China's 22.6 percent and the US 12.5 percent. Can India really derive a genuine comfort by leaving a very large part of its massive imported oil cargo on foreign bottoms at the time of war or international tension? Paradoxically, India is the world's largest shipbreaker, an internationally recognised 'dirty trade'. More than 50 percent of the world's discarded vessels make their last voyage to the world's largest ship-breaking yard at Alang in Gujarat.
According to UNCTAD, India owns only 986 vessels worth around $6.9 billion. The country's existing shipowners are financially constrained to expand their ocean going ship capacity. New entrepreneurs are not coming. The government itself is not serious about carrying 'Indian cargo on Indian bottom' in keeping with the UNCTAD prescription that allows national bottom to carry at least 40 percent of national cargo. Except India, almost all top trading countries in the world follow the principle of 'buying f.o.b. and selling c.i.f.' That means purchase import cargo free-on-board on your national vessel, pocket freight and insurance costs through national insurance company.
Even the country's coastal shipping along its 7,517-km-long coast line is not quite under its full control. The length of coastline of Indian mainland is 6,100 km. However, if one includes the coastline of the Andaman and Nicobar in the Bay of Bengal and Lakshwadeep Islands in the Arabian Sea, the total length is 7,517 km. Coastline of Indian mainland is surrounded by Arabian Sea in the west, Bay of Bengal in the east, and Indian Ocean in the south. Nearly 50 percent of even the country's coastal trade is in foreign hands. Since independence, the country lost over 1,600 kms of its precious coastline to nature, mainly due to official neglect.
India has practically surrendered a large part of economy and trade, including import of oil and other strategic items, to foreign shipping companies and their agents. India's national fleet carries well below 10 percent of India's foreign trade. The balance is carried by foreign ships, which simply walk away with freight and insurance. Time was when India aspired to carry on its flag carriers at least 50 percent of ocean bound trade. In the 1970s, the country fought in the UNCTAD forum for a 40:40:20 cargo sharing formula. The government's lackadaisical attitude in the latter years surrendered the advantage for the benefit of foreign shipowners. India's so-called national strategists seem to ignore China's massive expansion of ocean going merchant fleet, which with minor modification can be converted into warships in case of international military conflict.
According to International Shipping News, China is the world's second-largest ship-owning country, overtaking Japan. Numerous giant ore carriers, tankers and container ships scheduled for delivery to Chinese owners in the months and years ahead are likely to further boost capacity. According to figures compiled by Clarksons Research, the China-owned fleet recorded growth rates of 6.5 percent in 2015, 7.5 percent in 2016 and 9.4 percent in 2017, before adding 7.1 percent in the January-August 2018 period. China's fleet comprised 7,744 ships totalling 170 million GRT at end-August, 2018, above Japan's 167.6m GRT. China's fleet has expanded by 34 percent since the end of 2014. Is India, campaigning for 'self-reliance' concerned?
A recent government circular has been most confusing for oil importers. State-run oil firms are scrambling to comply with it to go local while hiring ships to haul crude and petroleum products of value less than Rs.200 crore as part of the revised 'Make in India' policy on procuring services. Ordinarily, such a move should pose a bonanza for local fleet owners such as SCI, The Great Eastern Shipping, Seven Islands Shipping and Essar Shipping. But, its immediate implementation is simply impossible due to shortage of Indian vessels to meet such requirement. For this, India must provide lots of incentives for merchant shipbuilding and ship acquisition. The government must fix a time-bound programme to raise India's shipping capacity to carry at least 50 percent of its international trade. (IPA Service)
Dailyhunt
Disclaimer: This story is auto-aggregated by a computer program and has not been created or edited by Dailyhunt. Publisher: India Press Agency