Top News
How Billionaire Devotee of Shri Krishna, Alfred Ford, Owner of Ford Company, became Ambarish Das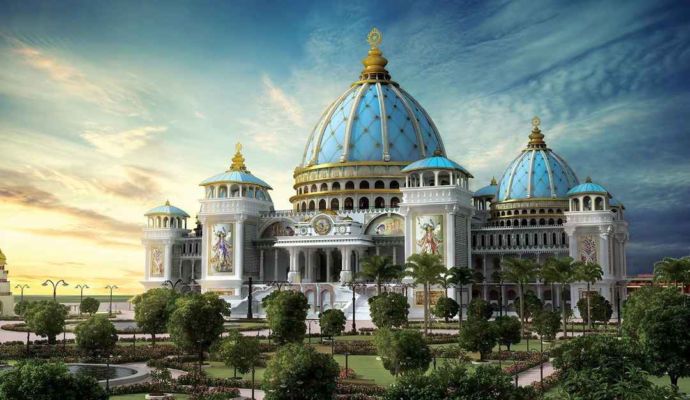 Alfred Ford is constructing a magnificent temple of Shri Krishna in India
Before this, let us tell you that Alfred Ford is associated with the project whose work started in Mayapur in West Bengal. 85 percent of the temple work has been completed. Now this temple will be ready in 2022. It has been named Mayapur Chandrodaya Temple i.e. Temple of Vedic Planetarium. The specialty of the temple is that it is 370 feet high temple.
250 crores donated for Sri Krishna temple
Please tell that Ford has donated about 250 crores rupees for this temple while the rest of the money was collected from donations. The purpose of building the temple is to spread the Vedic culture and knowledge around the world. The 380 feet high temple used special blue Bolivian marble which shows the western architecture in the temple. Each floor will have one lakh square feet in it, as well as the largest dome in the temple. This temple is a mixture of East and West. A 20-meter tall Vedic chandelier will be installed in the temple. It is said that more than 10,000 devotees can sit on one floor of the temple at one time.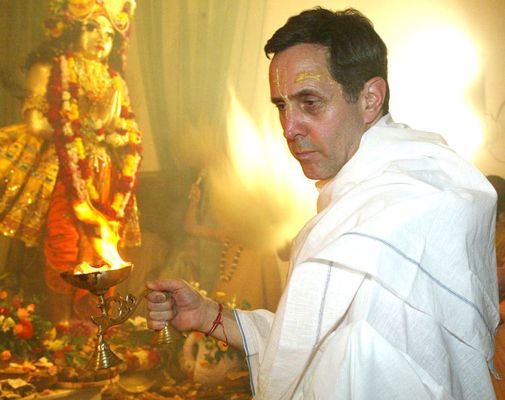 How Alfred Ford became Ambarish Das
Let us now talk about the personal life of Alfred Ford i.e. Ambarish Das.. Alfred was born on February 22, 1950, in Detroit, USA. Alfred Ford is the grandson of Ford Motor Company founder Henry Ford and is currently on the company's board. He joined Alfred ISKCON in 1975 after which he came to India with Prabhupada. After coming to India, he adopted Hinduism and then changed his name to Balabar Ambareesh. Alfred has painted all of Ash except Krishna. He devoted his entire life to Krishna's devotion.
Alfred Ford always keeps a bundle with him
Let me tell you why Alfred is not in any corner of the world, but he has a small bundle with which he chants Krishna's name. Alfred Ford married an Indian girl named Sharmila Ford. They have two daughters - Amritrina Ford and Anisha Ford. Let me tell you that Alfred has built his house here, where he lives with his family. In this way, Mayapur has become the second home of Alfred Ford.
Alfred ford is Shri Krishna devotee
After joining ISKCON in 1975 with AC Bhaktivedanta Swami Prabhupada, every moment of his life was spent chanting Krishna's name. On his tendency towards spirituality, Alfred had said that I took a life, indulging in all material pleasures when I was born. There was everything but I felt that something is empty from within, very empty. I started a search to find that missing link and found it through Krishna. When Alfred came to India, he was very happy. They say that these countries, these states are very beautiful.
Alfred settled in India to build a temple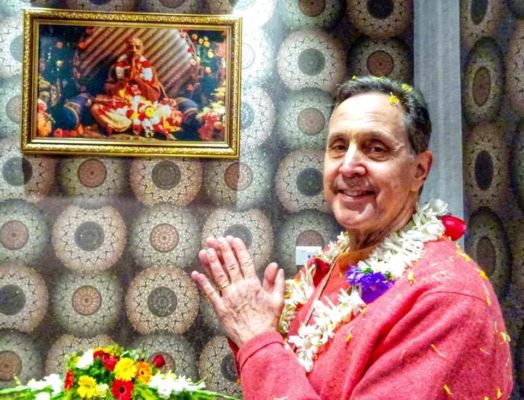 Apart from being on the board of Ford Company, he is the chairman of the ISKCON project and Temple of Vedic Planetarium. He helped build the first Krishna temple in Hawaii. He then gave $ 500,000 to the Bhagwad Geeta Cultural Center in Detroit. Ford has also provided financial assistance for the Vedic Cultural Center in Moscow, the capital of Russia. Bought a palace for the US $ 600,000 for Hare Krishna Temple and Learning Center in Honolulu. Alfred Ford embarked on the mission to build the tallest temple of Lord Shri Krishna with a total budget of about 800 crores. They came to India to build this temple and settled here and stayed through it.

Dailyhunt
Disclaimer: This story is auto-aggregated by a computer program and has not been created or edited by Dailyhunt. Publisher: Kalam Times