Entertainment News
Wedding Anniversary Special: Rani Mukherji was offered 'Kuch Kuch Hota Hai' as Aditya Chopra requested Karan Johar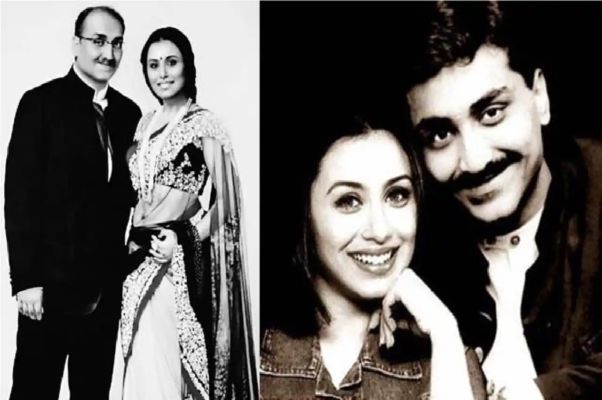 New Delhi: Rani Mukerji is a famous Bollywood actress and has worked in many superhit films in her film career. Her name has been associated with many Bollywood actors, but when it came to marriage, she chose a filmmaker as her life partner. Rani Mukherjee married Bollywood's famous director/producer Aditya Chopra on 21 April 2014. This was Aditya Chopra's second marriage as earlier, he was married to Payal Khanna, from whom he was divorced in 2009. The couple is completing 7 years of love and togetherness.
When on the one hand, people liked the pair of Aditya and Rani a lot, on the other hand, some people also put the tag of 'home breaker' on Rani. These two got married in Italy where only family members and some close friends were a part of the ceremony. After marrying Aditya Chopra, Rani Mukherji made some shocking revelations in her interviews, which all her fans were surprised to hear.
After marrying Aditya Chopra, people started calling Rani Mukerji a house breaker. Rani never finally broke the silence about it in an interview. Rani told that she started dating Aditya when he was already divorced. Talking about this, Rani said, "I started dating Aditya after he divorced his wife. I did not date Aditya while working, because I did not like to date my producer."
These two were good friends as having worked together as actor and producer a lot. When both were going through some tough times in their lives, they started developing feelings for each other and ultimately fell in love. However, Rani never thought of dating Aditya, but both loved to spend time with each other. It is another thing that Aditya gradually started to like Rani first as he found out Rani was very different from the rest of the actresses in B-town. That was the time when the news of their affair started making headlines.
Rani once said about her affair with Aditya, "At that time the whole universe was trying to unite us". Talking about her first date with Aditya, Rani had told that before dating her, Aditya had come home and asked her parents if he could date Rani? Rani's parents were also very happy to see the beginning of their love story and agreed to the match.
Although Rani Mukerji has worked with Aditya Chopra on many projects, she still remembers her first meeting with Aditya. Rani and Aditya met for the first time at Sampan Restaurant. When Rani Mukherjee met Aditya Chopra, she was not a huge actress as just one film of the actress was out by then but Aditya had made super hit films like 'Dilwale Dulhania Le Jayenge'. Since Aditya liked Rani Mukerji's work in the film 'Raja Ki Aayegi Baraat', he had asked Karan Johar to cast her in the film 'Kuch Kuch Hota Hai.'
Rani had told that Aditya and she had decided to stay away from the media so that they could explore their relationship and get to know each other better. Both of them had decided that they would not tell the media about their relationship until they themselves had become convinced about their relationship. And so did happen, everyone was shocked and surprised at the same time when the news came out that Rani Mukherjee is going to tie the knot with producer Aditya Chopra.
Dailyhunt
Disclaimer: This story is auto-aggregated by a computer program and has not been created or edited by Dailyhunt. Publisher: news24online