Home
UP will become new destination of health tourism: Yogi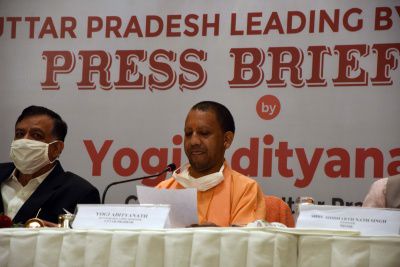 Lucknow, UP Chief Minister Yogi Adityanath said here on Monday that today the world is looking at Indian medical practices like Ayurveda, Yoga and Naturopathy with hopeful eyes. The experiences of the Kovid period have given global acceptance to these medical methods by giving ancient Indian sage tradition to the whole world. In this context, Uttar Pradesh will be recognized as the new health tourism destination for the world.
On Monday, Chief Minister Yogi Adityanath was distributing appointment letters and inaugurating 142 health and wellness centers to 1065 Ayurveda / Homeopathic medical officers newly elected by Uttar Pradesh Public Service Commission at his government residence.
While interacting with the newly elected doctors, the Chief Minister said that our sages have given the formula of Nasti Mool Aanodhan. This means that no plant is of any origin that does not have medicinal properties. We should do new research in relation to the medicinal properties of flora while expanding our curious tendency. He said that the grandmother whose prescriptions were neglected as archaic, today in the Kovid era the same decoction, asafetida, turmeric, ginger, black pepper, basil and Giloy etc. proved to be life-giving for us. We have to understand its importance and accordingly the path of the future has to be made.
Inaugurating 142 Yoga and Wellness Centers set up in various districts of the state, the Chief Minister said that these centers can play an important role in health tourism. Even though you are imparting this yoga training, but in the near future, training of methods like hetkarma should also be imparted here.
In order of Yogi's mission employment, 1065 new AYUSH / Homoeopathic physicians were deployed in the state on Monday.
Communicating through virtual medium, CM Yogi congratulated everyone. While distributing the appointment letters, the Chief Minister told the physicians that Ayurveda, Unani and Homeopathy Naturopathy medical methods have a lot of potential. Making a career in this field is not just limited to being selected for the post of government doctor, it has to be taken as a mission. He expressed confidence that these doctors selected on the basis of their merit through a process of fairness and transparency will definitely follow the basic religion of the doctor.
Let it be said that this is the first time in the last two and a half decades that when such a number of doctors have been appointed together in the AYUSH department.
Dr. Shreya Pandey and Dr. Wasim, who were posted in Rae Bareli district, Dr. Rishabh Kumar of Kushinagar, Dr. Parul Verma of Barabanki, Dr. Ratnesh Kumar of Sitapur, Dr. Niharika Gupta of Unnao, Gonda in the program held at the Chief Minister's residence. Provided appointment letters to Dr. Tanya Varshney, Dr. Ashish Goyal of Sultanpur and Dr. Babita Cain and Dr. Aditi Sonkar, who were posted in Lucknow, while virtual appointments were distributed by local public representatives to the remaining newly selected physicians associated with this program. were done.
Chief Minister Yogi Adityanath also launched the Ayush Telemedicine Service on Monday. With this new service, the people of the state will now be able to consult AYUSH experts sitting at home. Uttar Pradesh is the first state to launch a statewide telemedicine service. In the first phase, 384 dispensaries of 16 districts of the state including Gorakhpur, Ayodhya, Lucknow are attached to this system. Any needy person can get information about this at UPUPDetailMedicine.com.
Apart from the website, the patient can avail this Ayush telemedicine service by registering himself through the AYUSH Kavach-Kovid app.
In the program, Minister of State Department of AYUSH (Independent Charge) Dharam Singh Saini said that the innovative efforts of AYUSH KADHA and AYUSH KAVAR-KOVID in the Corona period protected the lives of crores of people. He received the consultation of necessary experts. Now the appointment of 1065 physicians, Ayush Telemedicine Service and Yoga and Wellness Center will help in providing timely, comfortable quality medical care to the people of Uttar Pradesh.
Dailyhunt
Disclaimer: This story is auto-aggregated by a computer program and has not been created or edited by Dailyhunt. Publisher: Tezz Buzz English