Home
Severe cold in Kashmir valley and Ladakh, snowfall and rain likely in next three days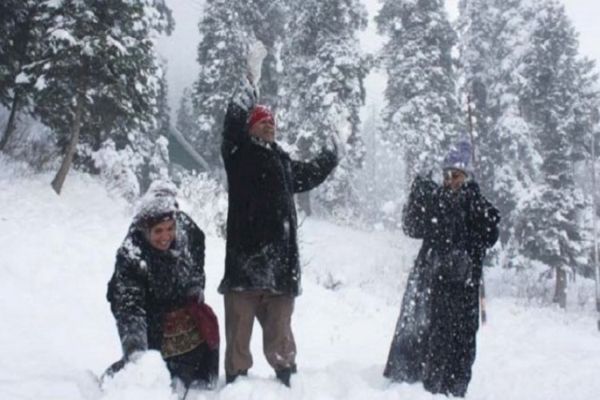 The Meteorological Department (IMD) said on Thursday that snowfall and rain are likely to occur again in the next three days in the Kashmir Valley and Ladakh. Due to snowfall and rain, there will be a heavy fall in the minimum temperature here.
The Meteorological Department informed that due to clear night sky, the minimum temperature in Ladakh, including the valley, has been recorded on Thursday. Snow has been expected from Kashmir hills, plains and Jammu regions since Friday and rain is expected in the plains of Jammu. An official of the Meteorological Department said, 'On January 23 and 24, it should be seen more active'.
It is known that 'Chillai Kalan' will end here on 31 January. 'Chilai Kalan' is a cold, shivering condition, which lasts for 40 days. The minimum temperature in Srinagar was recorded at minus seven degrees during the night. At the same time, the temperature was recorded at minus 9.3 degrees in Pahalgam and minus 7.8 degrees in Gulmarg.
Leh recorded minus 16.2 degrees
The temperature in Leh city of Ladakh is currently 16.2 degrees below zero. The temperature in Kargil is minus 18.4 degrees and in Dras it is minus 27.1 degrees. Apart from these, the minimum temperature was 5.7 in Jammu, 7.5 in Katra, 4.3 in Batot, 4.8 in Banihal and 0.5 degree Celsius in Bhaderwah.
At the same time, according to the Indian Meteorological Department, chill will increase due to the drop in the minimum temperature this week in other plains including the capital Delhi. A dense fog may remain in the morning. The Meteorological Department has predicted a decrease in temperature by two to three degrees Celsius in the next two days.
According to IMD, from 21 to 22 January, cold and fog conditions will prevail in Delhi. From 22 to 25 January, there will be partly cloudy and the temperature will increase, but before this, between 20 to 21 January, the people of the capital will have to face a severe winter due to the high winds.
Dailyhunt
Disclaimer: This story is auto-aggregated by a computer program and has not been created or edited by Dailyhunt. Publisher: The Indian Print