Food
How Masterchef Finalist Kishwar Chowdhury's Panta Bhaat Exposed My Late Mother's Shameful Secret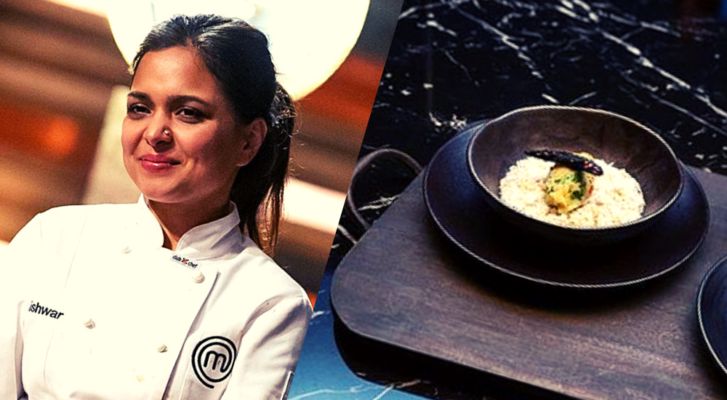 When Kishwar Chowdhury made panta bhaat as haute cuisine at Masterchef this year, she exposed that tiny, slightly shameful secret of my mother's, fermented leftover rice that no one else would touch, and my heart broke slightly.
Earlier in the year, when Bangladeshi-Australian chef Kishwar Chowdhury wowed the MasterChef Australia judges with rustic, homely (food not belonging to Europe or US is always rustic and homely, didn't you know?) Panta Bhaat and Aloor Bhorta dish as haute cuisine for her final challenge, the world, particularly WB and Bangladesh erupted in joyous celebration at indigenous Bengali cuisine finally finding its place in the sun.
Rightfully so, it was a shining moment for all the colonised world to feed a couple of goras our food and be praised for it. That it is chock-full of good bacteria hard at work breaking down starch into B-complex vitamins is a fanciful discovery of modern science. And Panta Bhaat is now being touted as a nationalistic dish another example at how clever Indians were. Pushpak Viman and Panta Bhaat!
It was as if Kishwar Chowdhury had put my mom's personal quiet time out for all to see
My heart broke slightly. Panta bhaat/pazhedu saadam is a small secretive dish that our poorest in society and the poorest in the home, the housewives/mothers eat.
Growing up and watching my mother eat it used to seem slightly disgusting to me. She never fed me my siblings or my father that. We'd always get fresh food. In her lot would fall the leftover rice that she would frugally and thoughtfully soak in water overnight.
Next day, because she'd never have time to eat the hot steaming idlis or pulao or upma she'd pack into dabbas for us, and she'd survive only on coffee till around 10 am. When she was somewhat free, she'd have the pazhedu saadam mixed with thayir (curds), topped with a bit of avakkai pickle, the brilliant radioactive-red oil from it standing out in dramatic contrast against the white of the thayir saadam. This was her brunch most days. It was her only quiet meal. I don't know what she thought of it. I sense that she perhaps relished it because it was the one thing that quick and easy, and reminded of her own mother.
Years later, as a newly-married young woman, I climbed on the roof of my grandmother-in-law's home in Nainital to ostensibly help her in the annual ritual of pinching out little blobs of ground, fermented moong dal or Moongaudi. These would be dried in the hot October pahadi sun, and would be ready in a few days to be roasted and dropped into dubuk made out of besan or a little more extravagantly as moongaudi and matar ki sabzi. This is the much needed protein fix to be made and stored for the harsh pahadi winters when nothing would grow.
When I tried to help her, my grandmother-in-law kept reworking my clumsy efforts into her near perfect swirly blobs that resembled Hershey's kisses. Eventually I gave up and sat down to watch her. But even that didn't seem welcome as she, the 75-year-old woman kept urging me to go down and 'rest'. Here I was, a 26-year-old trying a bit of apple polishing to get the in-laws to love me and finding that the opposite was being asked of me.
It occurred to me then that rather than being thrilled, to have some help for what I mistakenly understood as drudgery, she wanted to be left alone. As I left, I observed her for a minute more. The wind from the lake was ruffling her snowy white hair, the strong sun had put apples on her peachy cheeks. And she had the same expression as my mother did. A certain meditative, quiet reflection. This was not drudgery, this was the only time they had to themselves. Two incredibly talented, strong, intelligent women, who deserved so much more than the unpaid, unappreciated role they were doomed to play had found their magick in the mundane.
And so when Kishwar Chowdhury exposed that tiny, slightly shameful secret of my mother's, fermented leftover rice that no one else would touch, my heart broke slightly. She had taken it out of context, the rice not fermented, but freshly cooked. Maybe they do it that way too, I don't know. It just seemed like my mother in her well-worn sungudi saree, hadn't been given a chance to comb her hair or wash the resignation off her face, adjust her bindi, before putting her out on display to the uncaring world that was excited to discover another exotic new consumable.
My pazhedu saadam/ panda bhaat recipe
For the past few years I have been soaking leftover saadam too. I drink the soaking water the next morning and make panta bhaat from the rice. Because I make such a song and dance of goodness and the nutritional qualities, it's something that everyone wants. Sometimes I have nothing left for me.
I'm extremely privileged, I don't need to eat panta bhaat, but I still persist in soaking even a few left over over grains. It feels like belatedly, I'm honouring my mother.
Ingredients
One cup left over COOKED rice soaked overnight in water. The water level must cover the rice by at least an inch.
Salt to taste
Optional
Half an onion, finely chopped
One green chilly finely chopped
One cup dahi
A teaspoon of mustard oil OR Hing, if you do not like the taste of mustard oil.
Mix all ingredients, mash nicely with hand. Tuck in. Enjoy in peace and quiet.
Image source: Masterchef/ YouTube
The post How Masterchef Finalist Kishwar Chowdhury's Panta Bhaat Exposed My Late Mother's Shameful Secret appeared first on Women's Web: For Women Who Do.
Dailyhunt
Disclaimer: This story is auto-aggregated by a computer program and has not been created or edited by Dailyhunt. Publisher: Women's Web English