National
News Live: Opening ceremony for pandemic-postponed Tokyo Olympics begins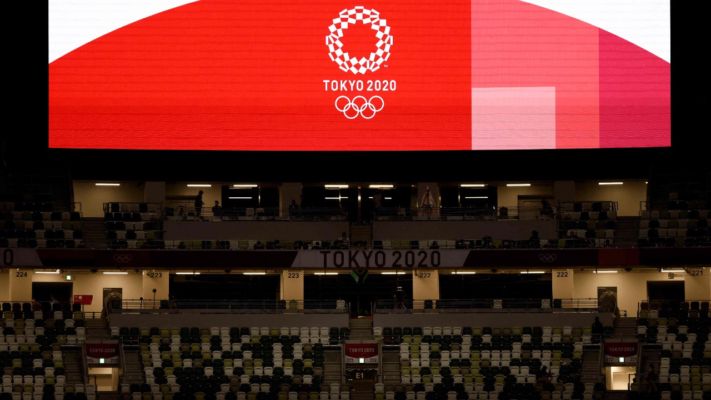 The latest updates on news and information — from India and across the world.
16:56

35 new seismological observatories to become operational by Dec: Govt

16:56

Rajasthan approves draft tribal upliftment scheme (PTI)

16:55

Opening ceremony for pandemic-postponed Tokyo Olympics begins (AFP)

16:37

EAM Jaishankar meets top Afghan peace negotiator Abdullah Abdullah (PTI)

16:36

Benzema tests positive for coronavirus, delays start with Madrid (AP)

16:35

Sidhu takes over as Punjab Cong chief; Amarinder says will work together for state's welfare (PTI)

16:34

China to crack down on after-school tutoring (Caixin)

16:33

Exports rise 45 pc during July 1-21: Comm Min data

16:32

Great Barrier Reef avoids UNESCO 'in danger' listing (AFP)

16:32

Indian Oil Corporation Limited says it will build the nation's first 'Green Hydrogen' plant at its Mathura refinery to strengthen its bouquet of clean energy offerings pic.twitter.com/ay7o7OONqE

— ANI (@ANI) July 23, 2021

16:30

Zomato closes 65% above offer price (Reuters)

16:28

Trinamool Congress Parliamentary Party has unanimously adopted a resolution to make TMC chief Mamata Banerjee as chairperson of Trinamool Congress Parliamentary Party:Derek O'Brien

15:49

Flood alert issued to people living on banks of Bhavani river (PTI)

15:48

India bat in final ODI against Sri Lanka (AFP)

15:48

CISCE board to announce class 10, 12 results tomorrow (PTI)

15:44

The publishers (of 'Pegasus Project' report) themselves are saying that it's not necessary that phones of the people whose names appeared on the list were tapped... No one takes Rahul Gandhi seriously & his allegations have no factual basis: BJP MP Sushil Kumar Modi pic.twitter.com/DylriXO1IR

— ANI (@ANI) July 23, 2021

15:44

Second time in two days, DRDO successfully tests Akash-NG Missile in Balasore (ANI)

# | India successfully testfired Akash-NG surface to air missile air defence system off Odisha coast today. This is the second test firing of the 30 km strike-range air defence missile systems in last two days

(Video source: DRDO) pic.twitter.com/K5bAxrckTh

— ANI (@ANI) July 23, 2021

15:43

Athletics federation of India to take action against Olympic under-performers (PTI)

15:43

Govt approves 792 private food processing projects so far (PTI)

15:42

Karnataka HC quashes UP Police's notice sent to Twitter India MD Manish Maheshwari under Section 41A of CrPC in connection with a video related to assault on an elderly man in Ghaziabad

Court allows police to record his statement via virtual mode or by visiting his office/home pic.twitter.com/jfyXVGHEET

— ANI (@ANI) July 23, 2021

15:41

RS proceedings adjourned for the day amid oppn's protests over Pegasus snooping row (PTI)

15:41

Japan's Emperor Naruhito to open Olympics, reprising grandfather's role (Reuters)

15:05

Dacoits loot valuables from house in Periyapatna taluk's Abbalathi village

Mohan and his family members were asleep when the gang broke in and tied the families members. The gang of four escaped with valuables worth lakhs of rupees. Periyapatna police visited the spot.

(RanjithKandya/DHNS)

14:48

NDRF and other rescue teams are facing problems reaching to the flood-affected areas in Chiplun as the roads and bridges are damaged. The situation remains tense: Maharashtra CM

Due to landslides in Talai village, Raigad around 35 people have lost their lives. Rescue operation is underway at many places. I have ordered the evacuation & relocation of people who are living in areas where there is a possibility of landslide: Maharashtra CM Uddhav Thackeray

(ANI)

14:47

Maharashtra | 8 people dead, 2 missing and 27 safely rescued in Satara district due to rains, says the Collector

(ANI)

14:46

India win the toss, elect to bat first against Sri Lanka in 3rd and final ODI at R Premadasa Stadium in Colombo

14:45

Rain lashes parts of Bhubaneswar in Odisha pic.twitter.com/1LUGiZfGbV

— ANI (@ANI) July 23, 2021

14:19

Maharashtra death toll in 2 days of rainfall crosses 50.

(DHNS)

14:18

President Ram Nath Kovind approves the appointment of Vice-Chancellors of 12 Central Universities: Ministry of Education

(DHNS)

14:10

Maharashtra CM Uddhav Thackeray reviews flood situation in Mantralaya

(DHNS)

13:56

Businessman Raj Kundra, Ryan Thorpe sent to police custody till July 27.

(ANI)

13:55

ISC, ICSE classes 10, 12 Board results to be out on Saturday

The results of ICSE and ISC Class 10 and Class 12 Board examinations 2021 will be released on Saturday, July 24 at 3 pm, the Council for the Indian School Certificate said on Friday.

13:54

UP ex-CM Kalyan Singh critical, on life support: Hospital

The health condition of former Uttar Pradesh chief minister Kalyan Singh is critical and he is on life support, the Sanjay Gandhi Post Graduate Institute of Medical Sciences (SGPGIMS) said on Friday.

13:29

The District Administration has appealed to those trapped to go to the rooftops or on heights from where the rescue teams in the helicopters can spot & evacuate them.

— CMO Maharashtra (@CMOMaharashtra) July 23, 2021

13:28

Maharashtra rain fury, landslides kill 35 in Raigad

At least 30 to 35 people were feared dead in an incident of landslide in a village in Maharashtra's Raigad district on Friday.

13:03

Delhi HC issues notice to Centre, Amazon on PIL seeking to prohibit entry of Shein

12:36

Heavy rains | Ratnagiri district yesterday evening. Credit: IAF

12:29

Osmania University retired professor Battu Satyanarayanaappointed as Vice Chancellor of Central University of Karnataka.

(DHNS)

12:20

Second case of extortion registered against former Mumbai Police Commissioner Param Bir Singh.

A total of six people named in the FIR, for allegedly demanding Rs 2 crore from a man.

(ANI)

11:25

Punjab crisis has been resolved, you can see: Congress leader Rahul Gandhi

(ANI)

11:23

Kolhapur's guardian minister Satej Patil directs diversion of traffic on Pune-Bangalore highway

Ministerof state for home and the guardian ministerof Kolhapur Satej Patil has directed the district administration to shift people and livestock affected due to the flooding to safer places immediately.He has also directed to divert the traffic through Kognoli on the Pune-Bangalore highway to the access to Chandgad, Aajara and Gadhinglaj.

(DHNS)

10:56

Pegasus is classified by the Israeli state as a weapon and that weapon is supposed to be used against terrorists. The Prime Minister and Home Minister have used this against the Indian state and against our institutions: Congress leader Rahul Gandhi

(ANI)

10:56

Supreme Court dismisses all the applications filed by Bharti Airtel and Vodafone Idea seeking a direction for correction of errors in AGR (Adjusted Gross Revenue) calculation.

(ANI)

10:55

Amarinder Singh meets Navjot Singh Sidhu ahead of the latter's swearing-in ceremony

Ahead of his swearing-in as new @INCPunjab president, @sherryontopp meets CM @capt_amarinder during the tea hosted by the latter. Flanking the CM is @harishrawatcmuk pic.twitter.com/NLtNlhMgs3

— Raveen Thukral (@RT_MediaAdvPBCM) July 23, 2021

10:41

Visited the affected areas in Kankavali and devgad..
ensured all the help! pic.twitter.com/1Znhhk97Hw

— nitesh rane (@NiteshNRane) July 23, 2021

09:51

#BreakingNews
Famous hill station of #Mahabaleshwar records over 1500 mm rainfall in three days - a record of sorts.

22-23 July - 594.4 mm
21-22 July - 461 mm
20-31 July - 483 mm

The Verna lake had got flooded @DeccanHerald #Maharashtra #Satara

— Mrityunjay Bose (@MBTheGuide) July 23, 2021

09:49

Seven people injured, three died after a building collapsed in Govandi area of Mumbai: Mumbai Police

Details awaited

(ANI)

09:19

Devotees will be allowed in Haridwar if they produce a negative RT-PCR report not older than 72 hours, but they won't be allowed in the 'snan': Haridwar District Administration

(ANI)

08:59

National Disaster Response Force (NDRF) team shifts people from Chikhali in Kolhapur district to safer locations. Several parts of the state are facing floods due to incessant rainfall.

#MaharashtraRains UPDATE
23/7/21
Due to hvy rains in KonkanDiv
Water-logging/flooding
2 NDRF TEAMS WORKING
Since yesterday
In action here today
At Kolhapur-Ratnagiri hi-way @HMOIndia @BhallaAjay26 @PIBHomeAffairs @PIBMumbai @ANI pic.twitter.com/ZQ4yQEQy76

— ѕαtчα prαdhαnसत्य नारायण प्रधान ସତ୍ଯପ୍ରଧାନ-DG NDRF (@satyaprad1) July 23, 2021

08:46

Two militants killed in overnight encounter with security forces in Sopore area of Jammu and Kashmir's Baramulla district

(PTI)

08:38

Five people died in Raigad district due to landslides and floods: Nidhi Chaudhary, District Collector, Raigad

(ANI)

08:38

Drone spotted | The Hexacopter was shot down around six kilometres inside the border, approximately 5 kilograms of explosives recovered: Jammu and Kashmir Police

08:17

Central Railway monsoon updates at 07.00 hrs on 23.7.2021. @railminindia

For diverted special trains please visit https://t.co/Ls8VH8bLM7 or download NTES App pic.twitter.com/LOzECOgLGz

— Central Railway (@Central_Railway) July 23, 2021

08:16

Cancellation Diversion & Partial Cancellation of trains @RailMinIndia @Central_Railway @WesternRly @GMSRailway @SWRRLY pic.twitter.com/52aAfnu3L5

— Konkan Railway (@KonkanRailway) July 22, 2021

08:11

#NewsAlert #BreakingNews #Landslide reported in Kalai village in #Raigad district.
However, waterlogging is making it difficult for the authorities to reach the affected people.
Details awaited @DeccanHerald #Konkan #MaharashtraRains

— Mrityunjay Bose (@MBTheGuide) July 23, 2021

08:10

Mumbai-Goa highway shut for traffic in wake of flood situation in Konkan region

(DHNS)

07:53

A drone was shot down in Kanachak area and explosive material was recovered. Details awaited: Jammu and Kashmir Police

(ANI)

06:46

Multi-agency operation to rescue people from Chiplun, Mahad

A massive and coordinated multi-agency mission has been launched to rescue people from the flood-ravaged Konkan towns of Chiplun and Mahad.

06:45

Gates of Kadra Dam in Karwar opened to discharge 40,000 cusecs of water in Kali River

# | Karnataka: Gates of Kadra Dam in Karwar opened to discharge of 40,000 cusecs of water in Kali River yesterday, following heavy rainfall in the region pic.twitter.com/Kx5Yumk4hO

— ANI (@ANI) July 23, 2021

06:44

Zomato to list shares on stock exchanges on Friday

Online food ordering platform Zomato, which last week closed its mega initial public offering raising over ₹9,000 crore, will list on the stock exchanges on Friday, days ahead of its earlier schedule of the next week.
Read all the latest updates on COVID-19 here.
Dailyhunt
Disclaimer: This story is auto-aggregated by a computer program and has not been created or edited by Dailyhunt. Publisher: Deccan Herald